Are you planning to add to your kitchen and looking for examples of kitchen addition plans online? Before you go any further, back up a bit and decide if you need to reconsider your addition strategy. Here's some must read information that will ensure that you make the best decision in this new investment.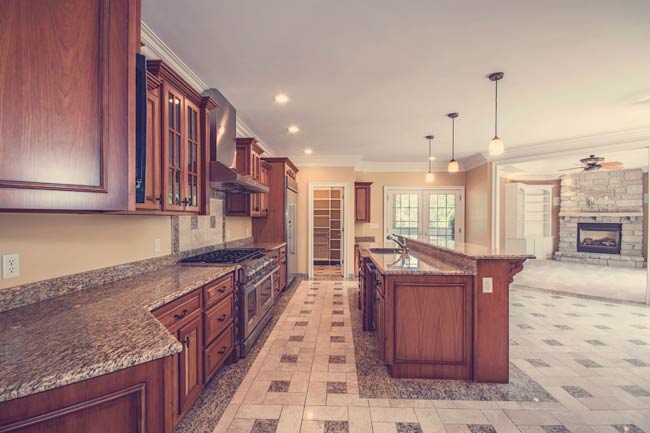 First decide, do I really need a kitchen addition?
You don't necessarily need to add square footage to create a more open kitchen floor plan. Sometimes all you need to do is move a wall, eliminate a closet, or change the kitchen flow to get the room you need for an expanded kitchen.  Sometimes the introduction of natural light by adding window and skylights will make the space seem larger without an addition. Even changing colors from dark to light and adding good lighting will make your space feel larger. Decide if these options are doable in your situation—it may save you lots of time and money.
Do you need an architect or a designer?
So you decide that you need an addition and your first thought is that you need to contract an architect. You may need an architect if you're planning on adding a large addition, or a complicated one, like if it has lots of structural changes or difficult roof interactions. If your addition is small and simple, a good and experienced designer may be just fine.
There are different types of designers with different expertise. The benefit of a good kitchen designer is that, unlike architects who really only design the kitchen basics, kitchen designers do best with the details. Kitchen designers are familiar with the flow of a great workspace, all of the latest gadgets, and storage add-ons for the cabinetry. An interior designer might not be as familiar with the cabinet parts and accessories, but can help you with the colors, fixtures, furnishings, tile, and even the furniture. If you can find someone who's great at both, you're ahead of the game!
Whether you need an architect, a kitchen designer, an interior designer, or an engineer, we strongly recommend that you connect with them. Reputation is important, but if you can't see eye to eye, there might be misunderstandings that will cause frustrations down the road. If this seems like too much effort to figure out who is best suited to design your space, consider design-build. Good design-builders have a network of architects, designers, and engineers to choose from and they can help you choose the best fit!
Going Small?
Sometimes a small "bump-out" addition can make all of the difference. If you push a wall out a couple of feet, you could have all the space you need to turn your galley kitchen into an eat-in kitchen. A small addition can also be a great way to add an entry with cubbies for shoes, book bags, and coats, or just create a better workflow. The best part is that while you're making a major impact to a small space, you'll also be saving money over building a large addition.
Or Go Big!
If you're thinking about adding a completely new room to house your dream kitchen, then be sure your design team has architectural experience. The benefit of going big is that even though it costs more overall, it is more cost-effective per square foot. Adding a big addition can save significantly per square foot over a small addition.
While You're At It…
If you have it in the budget, take advantage of the economies of scale that will be available if you choose to do more square feet. For example, adding a second floor master suite above the new kitchen is less expensive per square foot because you are already building a foundation and a roof, so you don't need to repeat those costs when adding the second floor.
We hope this information helped you have a better picture of your kitchen addition plan. If you have other questions or need more details, contact us! We're happy to help.