With the popularity of stainless steel appliances, neutral colors, and white cabinets, kitchens these days can be a little… well, boring. If you're considering kitchen addition ideas, don't drown in monotony. Learn how to add humor and a feel-good vibe to your new kitchen addition.
You can create a kitchen addition that's both pleasing to your eye and sense of style, while also injected with a homey, feel-good vibe, and even some humor. Consider some of the ideas below when working with your design/build team on your kitchen addition.
And, if you're wondering what a kitchen addition or remodel will cost, check out this post on the average cost of a kitchen remodel in Philadelphia.
 Chalkboard paint
Adding chalkboard paint to your kitchen design can be a great way to inject some whimsy to your kitchen. Paint a whole wall, the end of a set of cabinets, or even just a small space in your kitchen with chalkboard paint.
Your chalkboard will provide a great place for grocery lists, meal menus, and notes to family members. It'll also bring a smile to your face to see the chalk drawings and scribbling your children or grandchildren create.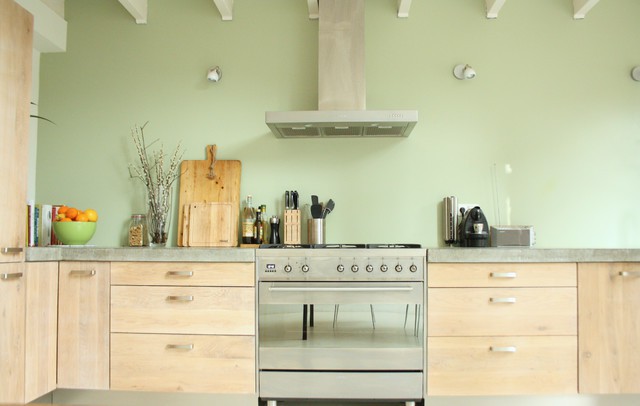 Art
Art can make a great focal point in the kitchen. But think outside the baguette and wine bottle paintings that are typical in kitchens. Instead, choose artwork with some personality, humor, or style. Art is also a great way to add a pop of color to brighten up your kitchen.
Also think about how other art forms can give you a feel-good vibe in the kitchen. Put that silly sculpture or statue you found at an antique store on your counter or windowsill. It'll provide you with a smile, and a fun conversation piece when you entertain.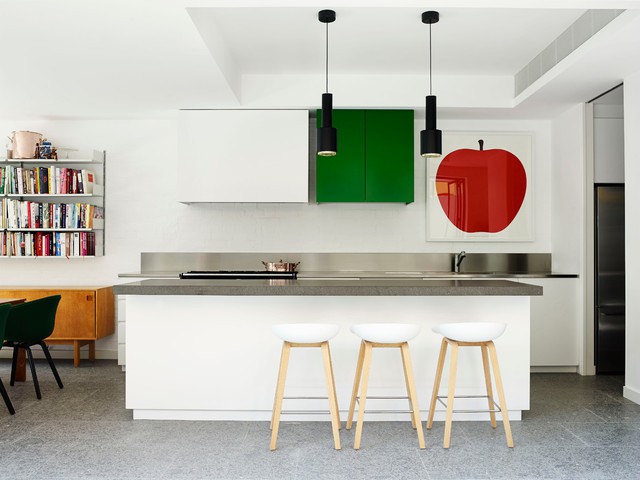 Fabric
Making some funky fabric choices is a great way to add a friendly vibe to your kitchen. Whether you're picking out fabrics for a settee, curtains, a comfy bench, or chair pads, choose something bright, unexpected, or homey.
If you've got a light, white, or neutral color scheme going on in your kitchen, some colorful fabrics can be a great way to draw the eye and add some interest.
Color
Yes, gray, beige, and white are all the rage these days for kitchen walls. But think how introducing a color into your kitchen can elevate the mood. Picking a sunny yellow, bright green, or even a soft lilac, can give your kitchen that inviting, pleasant feel that will make everyone happy.
Comfort
Kitchens can quickly become staid and sterile places when you choose stainless steel appliances, subway tile backsplashes, and modern lines. A great way to add a feel-good vibe to your kitchen is by considering comfort.
Can you replace a few chairs at your table with a comfortable settee or padded bench? Is there room for a few comfy chairs in a breakfast nook? Family and friends will want to gather in your kitchen when there are comfortable and unique places to perch.
Built-in or clever storage
A clutter-free kitchen is an inviting kitchen. Consider built-in storage for everything from knives and utensils, to pots and pans. You can even use cute baskets to corral your fruits and veggies, or other items that end up on your counter.
Looking for other storage tricks? Here's a post offering a slew of kitchen storage ideas.
Natural materials
When thinking of kitchen addition ideas, consider the use of natural materials. Bringing a touch of nature inside—be it in the form of a butcher block island, wooden tables and chairs, or reclaimed wooden beams—can make your kitchen feel warm and homey.
Stone is also a great choice for kitchens, including in the form of a textured backsplash or countertops.
Go a step further by actually bringing nature inside your house. Line your windowsill with a few potted herbs, or make your countertop or island home to some pretty plants.
Feel-good fridges
Yes, a refrigerator can even bring a feel-good vibe to your kitchen. If it fits your style, go for a fridge with a retro look in a fun pastel shade. Or choose a few compact fridges or wine fridges to work into your kitchen design. Who doesn't love a cold beer or perfectly chilled bottle of wine at the ready?
You can also hide your fridge by going for a fully integrated fridge that matches your cabinets or walls. Then get a good laugh when it takes guests a moment to figure out where your fridge is!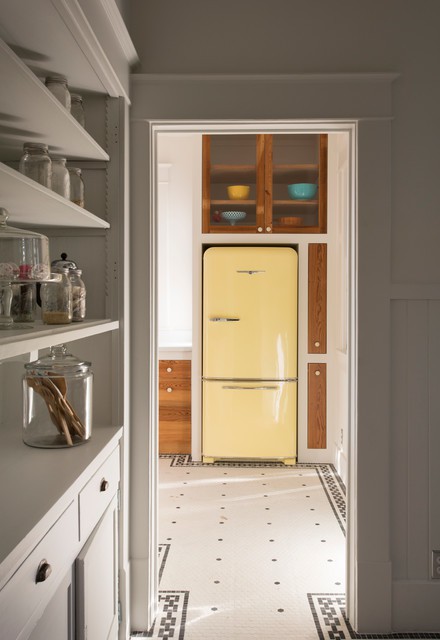 When you're ready, contact us about your kitchen addition ideas. We're ready to get the conversation started!