It's the favorite room in the home and one of the most popular spaces to remodel. A kitchen remodel is one of the biggest investments you'll make in your home, and also one of the most complicated remodeling jobs you'll tackle. Good kitchen design, then, is crucial in making sure your new space is everything you want and need.
Have you've decided to remodel your kitchen to reflect your new empty-nest lifestyle? Many people come to the realization that the kitchen design that worked fine for raising children doesn't quite meet their current needs. Some decide now's the time to get the chef-inspired kitchen they've always dreamed of. Others find they can now afford to open up the room and/or add a great room addition for daily living, entertaining, and dining. Or maybe the old peninsula has outlived its usefulness.
Whatever your reasons for remodeling your kitchen, it's worth considering what you can gain in value from employing the services of a kitchen designer.
The Difference Between Average and Outstanding
Kitchens need to be both beautiful and functional, efficient to use, and easy to keep clean. It all adds up to a room that suits your lifestyle and offers a pleasant and welcoming environment to family and friends.
Designing such a kitchen is not easy. There are many often conflicting considerations to deal with:
Kitchens needs plenty of storage and must house large appliances, which take up wall space.
Kitchens optimally should be bright and airy, which usually comes with big windows and openings to other rooms.
Those openings take up the wall space the storage and appliances need.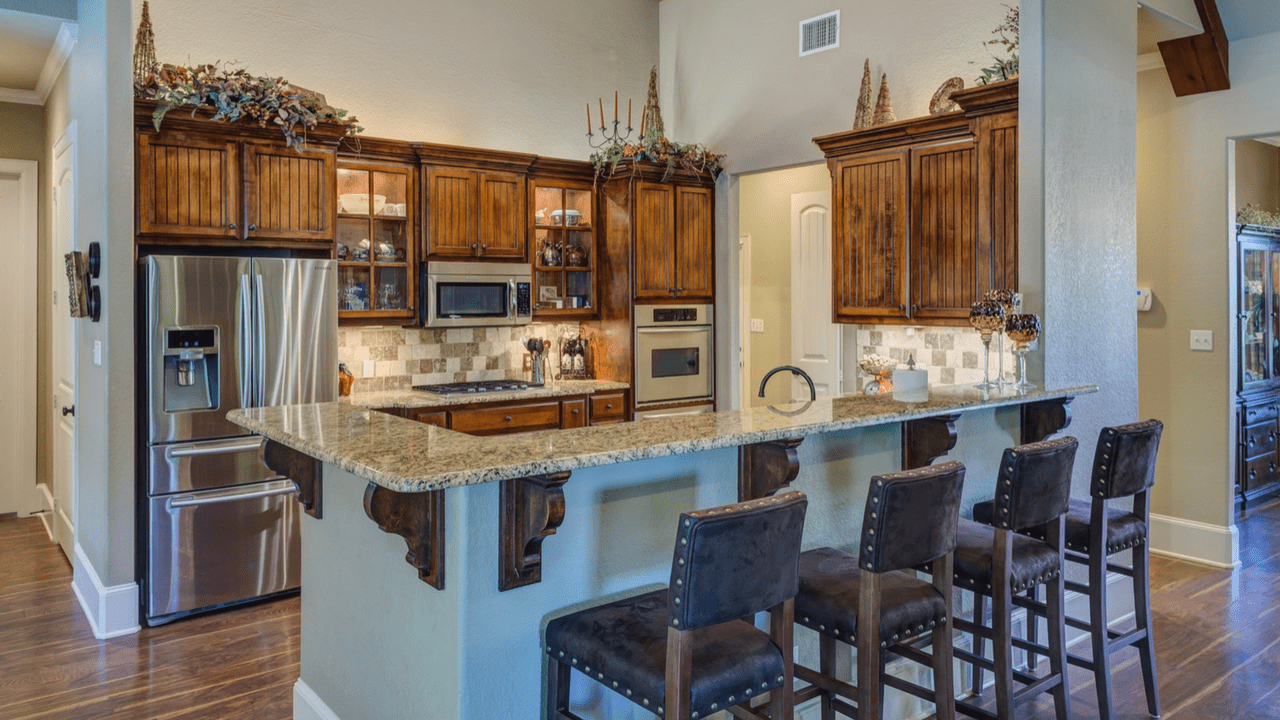 So what takes priority? In an ideal world, both, but is that possible? The closest you can get to saying yes is by working with a designer who has the experience and expertise to make kitchen magic happen for you. It's the one sure path to ending up with a new kitchen that's anything but average.
Place Your Trust in a Kitchen Designer
Some clients we meet with are concerned that a kitchen designer may be more focused on selling them products than designing the kitchen they have in mind. When you work with a design-build firm like Cottage Industries, you can put that worry to rest. Our remodeling process makes sure that everyone involved on your project works together to translate your vision, and often your unrealized needs, into a design that maximizes desired resources, the room's function use, and your budget.
"I Never Thought About That Option"
We hear it over and again from our clients who chose to work with our designer. The services of a professional kitchen designer represent a small portion of your projected budget, but the expertise you receive in return saves time and money, and assures a more valuable and satisfying outcome. A certified kitchen designer is held to relevant and rigorous standards, and must:
Have five years' experience in full-time residential kitchen design, including construction, electrical, and plumbing systems.
Have the skills necessary to assess your needs and wants, creating a design that meets – or exceeds – your expectations.
Have the required continuing education requirements that allow them to remain current on local building codes, safety, and environmental regulations.
Kitchen designers not only have all the planning tools most homeowners do not, but they are knowledgeable on the latest kitchen trends and new materials. Your designer will assist you every step of the way, making sure the design process is a fun and exciting experience, while balancing all the pieces that must come together to make your new kitchen a beautiful and functional space.
One of the biggest advantages to hiring a professional kitchen designer is the long-standing relationships she or he has with tradespeople, manufacturers, and suppliers, which guarantees you're getting the best products and materials for your investment. A designer also helps you avoid misgivings and potential mistakes by exploring all available options – including ones you may not have thought of – to come up with the best marriage of floor plan, design, and materials.
You Can Trust Your Kitchen Designer
Because kitchen designers are experts at what they do, they tend to get you a higher quality product, a better design, and more options and features than you might get without one. They often give you much more for your budget and are focused on getting the job done right and to your specifications.
Good kitchen design perfectly balances all functional and aesthetic elements. It can, like a Rubik's cube, be a difficult puzzle to solve, but when your designer gets it right, you'll know it. The best designers have your interests at heart and know which designs and products will stand the test of time in terms of value. All it takes is putting your trust in their expertise.
At Cottage Industries, our design-build process helps you realize your kitchen remodeling goals while staying within your budget and schedule. If you're ready to start the remodeling process for your Main Line or Philadelphia area home, or would like to learn more about how a kitchen designer can be the right choice, schedule a conversation with us today. We look forward to meeting you!