Bathrooms are usually the smallest rooms in a house. So if you're planning to remodel your bathroom, it's probably simple enough to design it yourself, right? Or you'll probably be able to save money contracting it out yourself, right? Wrong, and wrong.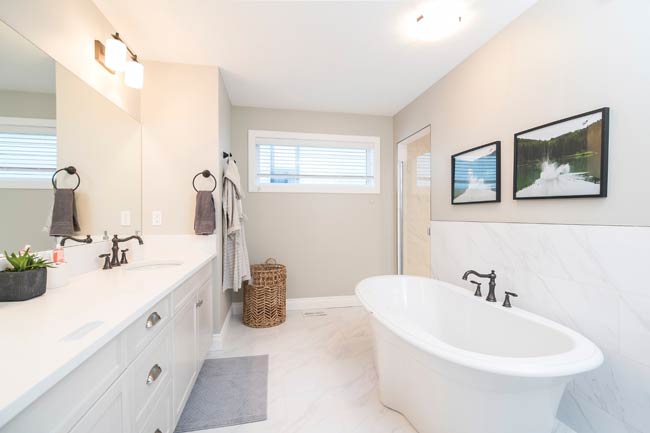 A quality design/build firm can help you get the most for your money, offer you design ideas and flexibility, and reduce the amount of time it takes to complete a remodel—all while achieving the bathroom transformation you've been dreaming of.
When designing a bathroom yourself first consider if the layout works for you. If you need to move walls or plumbing, you'll need some knowledge of codes and structural details. Still want to design? If you are taking the easy route and keeping the layout the same, think carefully about tile options, colors, layouts, ropes, borders bullnose, mosaics, grout color, and more! There's a lot to consider in just the tile. Then you need to figure out the cabinets, tops, fixtures, trim, and paint colors.  Remember it all needs to come together in harmony!
Once your design is complete you can always contract the work yourself if you are up to the task. You need to find your own demo crew, plumber, electrician, carpenter, drywall installer, tile installer, and painter, then pour through their bids to be sure what you want is included. Then create a schedule for everyone to follow and oversee the work to be sure it's done correctly while not getting in the way. You can hire a one man show and save some money, but do you really want the same guy doing all those tasks when each one takes a level of expertise that requires years to master? Me either.
The other option, and the one we recommend, is hiring a design/build firm with lots of experience and a track record of making clients happy.
We've put together a hit list of the top five reasons to use a design build firm for your bathroom remodel. Read on to find out the benefits.
1. Get The Biggest Bang For Your Construction Buck
At Cottage Industries, we use the principle of "optimum value design" to help our clients save money, without compromising the integrity of your project. Throughout the bathroom remodel process, we'll constantly be checking to make sure we are finding the biggest cost-savings for you, but only using materials we stand behind 100 percent.
We never want to design something that is financially out of reach, and we keep a close eye on construction costs throughout the process so there are no surprises at the end.
Curious what a bathroom remodel costs? Find out the average cost of a bathroom remodel in the Philadelphia area.
2. Transform Your Bath
There's a difference between making a few cosmetic changes in your bathroom and undertaking a bathroom remodel. A remodel means you'll likely be getting rid of the large majority of your current bathroom, in order to transform it into a more functional and up-to-date space.
Of course, every bathroom remodel is different. If you have a gorgeous, antique claw foot tub, yes, there's probably a way that it can be worked into the new design. But you aren't going to want to keep that vanity that's 10 years old, or try to save money by keeping the toilet you've had forever. In a gorgeous new bathroom, old elements stick out like a sore thumb.
A quality design build firm will engage you in a series of conversations about what exactly you're looking to do, how to do it, and how to meet your needs within budget. The process is more surgical than cosmetic, and having a company on your side that knows the ins and outs of renovating will be a real boon for you.
3. Enjoy Optimal Communication Among Team Members
If you're trying to coordinate contractors, plumbers, electricians, and other tradesmen to complete your bathroom remodel, it could turn into a full time job, or a logistics nightmare.
With a design build firm, you've got a well-oiled machine working as a team for you. The collaboration between designers and builders translates into a cost- and time-savings for you. When complications, delays, or unforeseen circumstances arise, you've got a team to figure it out for you. Most of the time, though, your design build team has enough experience to head off any potential problems before they even arise.
4. Realize Greater Design Flexibility
With a design build team in your corner, you'll realize even more flexibility and choice when it comes to your bathroom design. Not only will a design build team bring you ideas, designs, and materials you weren't aware of, the team works together efficiently and accurately to evaluate alternative materials, building methods, and systems.
The team will keep you on budget, while bringing you the best quality materials and systems that the project calls for. The designers might even surprise you with some interesting ideas on how to make your bathroom layout work the best for your family.
5. Reduce Your Project Timeframe
What's the best way to reduce your project timeline when remodeling your bathroom? Hire a design build firm.
A study by the Construction Industry Institute and Pennsylvania State University compared design build to design-bid-build and construction management. The findings indicate that design build is 4-6 percent cheaper, construction speed is 7 to 12 percent faster, and quality exceeds expectation. Read more about it here.
Curious to find out what a bathroom remodel could look like at your house?  Contact us today to start the conversation.