If you are designing a new kitchen, you may feel that having an overly large space to work with will be a luxury compared to an excessively small one. However, it still has to be highly functional, so the placement of your most important elements—the sink, refrigerator, and stove—is critical.
For example, you don't want your refrigerator to be a world away from the sink and the cooktop. You want these things in a tight area so that one is handy to the other. We call this the "kitchen triangle," and it forms the basis of most functional kitchen designs.
In a large kitchen space, it could mean that more than one chef will be in the kitchen at a time. If this is the case, you may want to create a couple of different triangles to support that approach.
The Importance Of The Kitchen Triangle
The relationship between the sink, the cooktop, and the refrigerator form a triangle.
In a large kitchen, you might have two separate triangles, or you may have an island-based cooking area for prep that is handy to the sink. If you're going to be using both areas as functional workstations, don't put too much distance between the island and the main counter space.
However, putting these areas too close together can create problems also. Too close together, it might be fine for one person, but if you have two or more people cooking and prepping, you will want to have enough space. This is something the kitchen designer will work into the plans.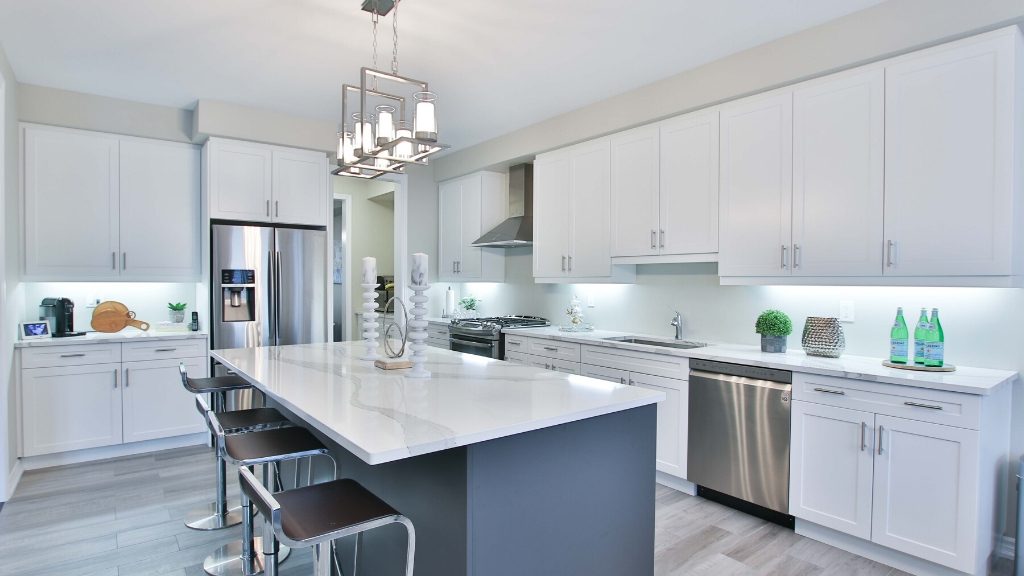 Beyond Cabinetry: Thinking Outside The Box
If you have an extensive area to fill, don't feel that you have to fill it with cabinetry.
For instance, you might want to incorporate other aspects of kitchen functionality, for example, a large pantry storage area, an entertainment area, or a breakfast area. The point is, although the cabinetry needs to be where the cooking functions are taking place, not every available space has to be crammed with it.
More Seating For Your Guests
Having an ample kitchen space means you can accommodate a lot more seating, or maybe create an entertainment zone or hangout space. People love to hang out in the kitchen when the chef is cooking, so if you do a lot of cooking and entertaining, this would be a great idea.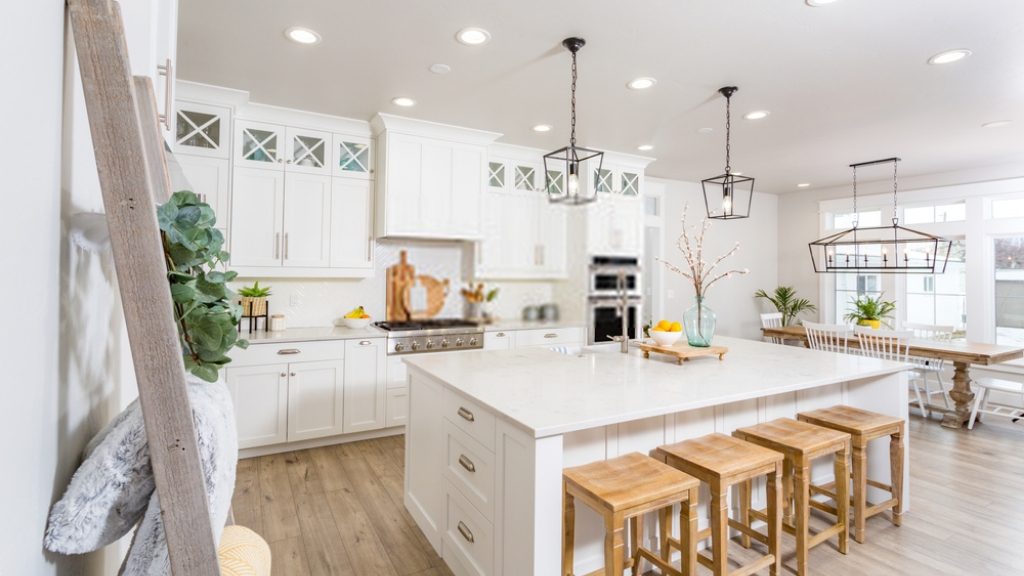 Larger Appliances
A big kitchen gives you space to accommodate larger appliances – or more of them. For example, you could have a freezer unit and a refrigerator unit; it doesn't have to be a combo fridge and freezer.
You might decide on a six-burner commercial-type range with a serious hood fan to pull air out of the kitchen. If so, you will have to consider what's called a make-up air unit (MAU). By code, you must have a device that brings in air in from the outside to make up for the air that you're sucking out of the kitchen with your hood fan. In larger kitchens, this is often a consideration.
Flexible Layouts
If you plan to have a lot of people in the kitchen, whether they are working or hanging out, you want to make sure that the flow of traffic works well. This will ensure that nobody gets in your way while you're working and that there are no bottlenecks in any given area.
Lighting Design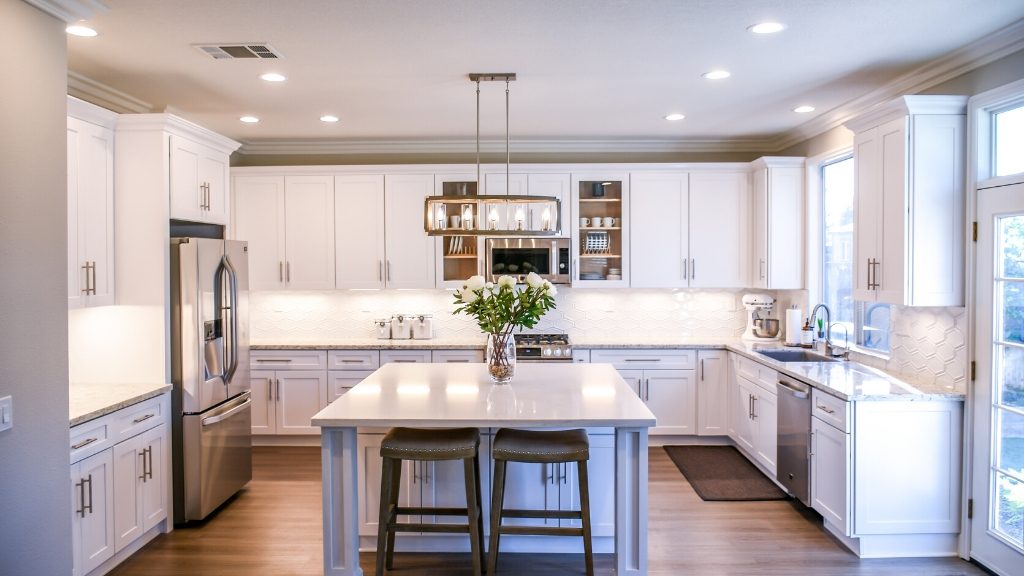 The lighting you choose is another important aspect of kitchen design. You need task lighting, you will probably want some kind of mood lighting—softer and dimmable, for example. This way you've got good illumination over the cooking and prep areas and some nice options when you are using the kitchen for purposes other than cooking.
Islands
A kitchen island can serve many functions. If you intend for it to be part of the functional kitchen design, it should be a minimum of three feet and a maximum of four feet away from the oven, fridge, and sink.
If it were six feet away, it would be completely nonfunctional. You would be able to get a whole parade of people in there, but in terms of being able to take a hot dish out of the oven, turn around and it on the island, it wouldn't be ideal.
With an overly large space, you might even want to think about having two islands; one for prep and one for casual dining.
Are you getting ready to design a kitchen for a large space? We would love to show you how we can help. Reach out today to start the conversation.