Before we get started on a new building project, clients often ask these questions:
 

"Do you give us a construction schedule?"

"Can we live in the house while construction is happening?"

"What measures do you take to maintain home security, and the security and safety of our children and pets?"
These are all very important things to know. In preparing for the Main Line remodel, we like to ensure our clients are well-apprised of every stage and aspect of the work before we start.
All of these items are discussed in detail with the client at the pre-construction meeting, which takes place before starting the job.
Can we live in the house during construction?
The determination of whether or not you will be able to live in the house is generally discussed at the outset. Depending on the scope of the job and your tolerance for certain types of work going on around you, it may not be possible. However, we will always try to accommodate your wishes with a particular focus on personal safety, security, and the protection of your belongings.
Temporary Solutions For Convenience And Safety
We want to make sure you and your family is safe at all times, and that they have access to the amenities they need, such as the laundry room, bathrooms, and so on. If the work is going to block these areas, we may be able to set up a temporary solution that will work while the construction is going on.
We will set up temporary barriers to contain dust, and if there are safety concerns or hazards, we will build temporary walls to prevent any children or pets from wandering in.
Security Concerns
In terms of security, we will discuss options and help you choose the one that is most comfortable for you, which might be as easy as installing a lockbox in a location that is convenient for everybody.
Keeping Your Family And Pets Happy
There are many details we will need to discuss beforehand, such as where to park, and how to keep things comfortable with kids, pets, and adults as we come and go.
In some cases, the noise of the work might cause some distress to the pets, so we can discuss the times when this is most likely to occur so you can plan for them to be away then.
As for children, we always find out the names and ages of all the kids in the family. We like to know who the nanny is and get emergency contact numbers for everybody, just in case.
Ultimately, we realize we're in your home while you're living there, and your comfort is every bit as important as the work being done. We like to avoid unpleasant surprises, which is why good communication is key to ensure all your needs and concerns are addressed right upfront.
How We Decide Whether You Can Live In The Home Or Not During Construction
To answer the question of whether it's possible to live in the home during the work, we look at the size and scope of the job and how much of the house will be in disruption. In some cases, it will be impossible, or at least during parts of it.
For instance, if we're building an addition, we might be working outside the house for quite a while, but when we're ready to break through, that's when you will have to move out. If we're putting in a new kitchen and you decide you want to stay, we might be able to set up a temporary kitchen to get you through. However, if it's a whole-house renovation or remodel, we may suggest you find a short-term rental or stay with family for a while.
You might want to stay in the home for most of the work but leave for a few days while we refinish the floors. It really depends on your tolerance to disruption, odors, and inconvenience.
For larger jobs, however, it's often more cost-effective to vacate the home for a while as some of the costs can run higher. Dust barriers need more maintenance when people are living on-site, and often our processes end up being lengthier than they would be otherwise for several reasons.
For instance, we may need to shut the water off for a few days. The less frequently we have to turn it on and off, the less potential there is for aggravation. In many cases, we can even quantify how much you can save on the job by moving out.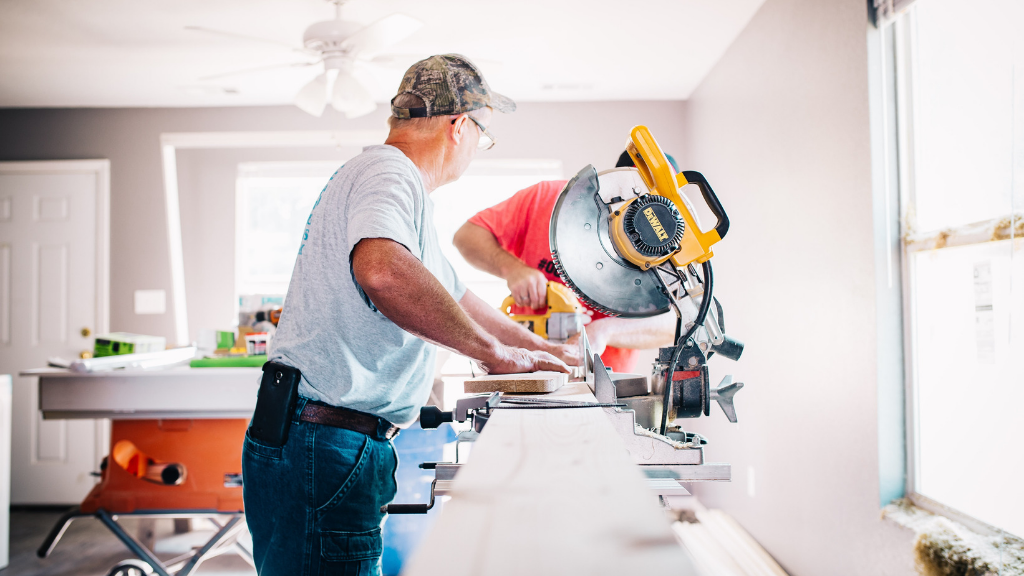 The Pre-Construction Checklist
During our pre-construction meeting, we go over a detailed checklist of items we need to talk about. For instance, we might ask if anyone in the family has allergies to dust, VOCs, chemicals, formaldehyde, and so on. If we know this, we can set up specific ventilation when these items may cause exposure, or we can arrange for the family to be out of the house when we are doing that work. Even things like nut allergies – we can address this by making sure nobody packs a peanut butter sandwich for lunch during the course of the work. 
The Construction Schedule
Once we have a rough schedule for the work to be done, we discuss it in detail with the client. We will go over it, line by line, to make sure everyone is aware of critical phases and milestones and show them how easy it is to follow along with the work.
We send out the construction schedule by email, and we'll also print it out. That way, if the client wants to coordinate their calendar with the schedule, they've got all the information we have. We try to accommodate the client's need for information according to how they like to be informed, so if that's through weekly progress meetings or text or email, we're happy to accommodate.
In the end, it's all about making you comfortable, so if you have specific concerns, we like to address them right away. Whether it's a health concern, safety, security, or personal comfort, the pre-construction meeting sets the precedents that we live by as the work is completed.
Are you thinking about a remodel to your Main Line home? We'd love to hear about it! Call today to schedule a conversation and let's talk about how we can help.