A portico is a small-ish type of porch with a partial roof over top. It provides a bit of shelter over your front entrance, and some might describe it as a vestibule without walls, but it can be so much more.
No matter how you describe it, a portico is a cost-effective way to update the look of the home, raise its value, and add great curb appeal. From an architectural standpoint, a portico effectively connects the outdoors to your home's interior, creating a natural flow that is at once welcoming and stylish. In fact, it can completely transform the outward appearance of your home without the need for major renovations.
In practical terms, porticos are a very efficient way to keep your guests dry in inclement weather – and the mailman likes them as well! You can put your umbrellas out there to dry or have your kids remove their muddy boots before they step inside and it also gives your friends a sheltered place to wait while you come to the door.
Porticos can be large or small. Some are made to accommodate benches and chairs, and others are simply to provide a bit of shelter from the elements while entering the home. Others still can double as a second-level balcony. You can add lighting, rugs, planters, or anything that makes you happy and enhances the look of your entryway.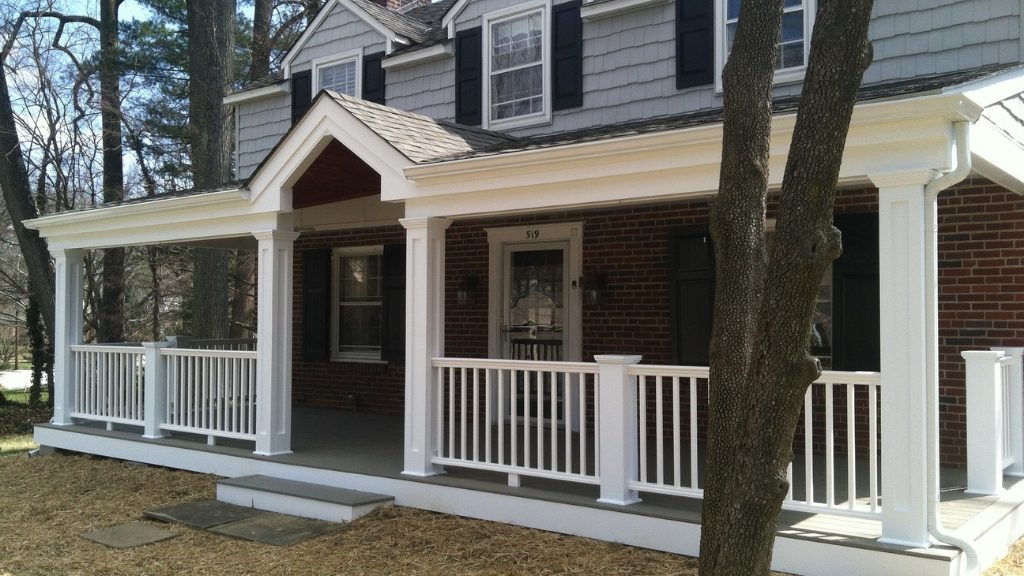 Matching Your Portico Design To The Architecture Of Your Home
If you are thinking about adding a portico to your Main Line or Philadelphia home, keep in mind that it should complement the design of the house itself. The portico should be an extension of the home's architecture, providing a seamless transition from outside to the interior spaces. This is especially important if you live in an architecturally important home and want to preserve the integrity of the original designer's intent.
There are other ways to approach a new portico from a design standpoint; you could connect the portico design to your landscape lighting and hard-scaping features, like walkways, steps, and driveways. Whatever you decide to do, ultimately, adding a portico injects new life into your home without the stress and expense of a major – renovation.
Here are some of the top reasons Main Line homeowners are installing new porticos:
1. Porticos are cost-effective
At just a fraction of the cost of a major exterior remodel, you can give your home a whole new look. From a financial standpoint, this makes it easy to justify an update as it will deliver on design and potentially raise the value of your home.
2. Porticos offer great curb appeal
A new portico addition can transform the look of your home without having to make any major structural changes. If your front door is drab, if the lines of your roof don't speak to your sense of aesthetics anymore, a few simple changes can change everything.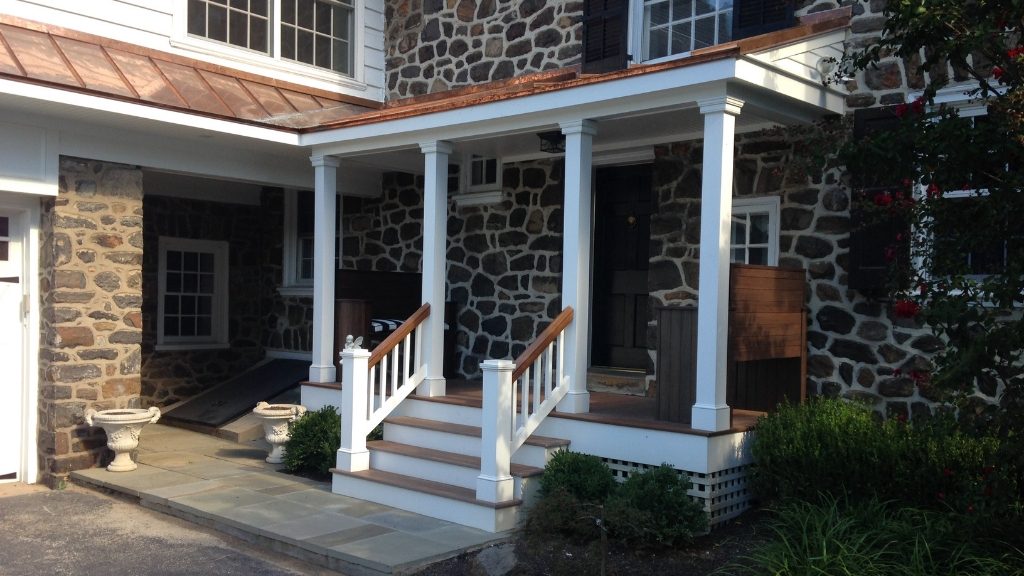 3. Porticos are a great alternative where a full porch isn't practical
Putting a full-size porch on the front of your home isn't always the best way to go. However, having a portico gives you the functionality of a porch without the commitment in both space and budget. You can have a nice, dry, sheltered place to sit without obstructing the entire front of your home.
4. Porticos enhance your home's resale value
A house almost looks like its missing something if it doesn't have a portico. Many real estate brokers will tell you that potential home buyers make up their minds the first 10 seconds after viewing and entering. An overhang or a portico lends an immediately welcoming feel while providing shelter from the elements.
5. A portico can be as elaborate or as simple as you like
Porticos are not always as inexpensive as you may think, as they can be quite elaborate, depending on the style you are going for. You can add columns, overhangs that are different shapes and sizes, and so on. We suggest choosing materials and design elements that make it look original so that the look of your home has a cohesive quality to it.
In conclusion, a portico is generally a viable, cost-effective alternative to having a full-size porch on the front, side or back of your home. For your front door, it is a must. If you already have a front stoop, you can transform it using veneers, brick, tile, or a range of other materials that match the rest of your home. As long as you stick to the color palette and general design concept of the existing exteriors, it will look like it was meant to be.
Are you interested in transforming your home's entryway with a new portico addition? Schedule a conversation today and discover how easy it is to get started.