If you're tired of those ugly concrete steps leading to your front door, or you're looking to boost your home's curb appeal, what's the solution? Design, build, or remodel a portico, a small porch protected by a column-supported roof.
Building a portico isn't as simple as throwing up a few columns and a roof. You'll want to consider the existing style of your home, and choose a portico design that adds dimension, highlights your home's front door, and ups your home's curb appeal.
Most important, you want a portico that merges with the existing structure of your home—a task that can be a lot harder than it sounds. Read on to learn about different portico designs, portico designs lacking curb appeal, and how to take cues from your home's architectural style when designing a portico.
Different Portico Designs
What is a portico? It's a small porch protected by a column-supported roof. Portico styles range from classic and modern to Victorian or Colonial revival. Not only does a portico offer a visual cue on where to enter the house, it can protect visitors from the elements, and connects the indoors to the outdoors.
The portico design options out there are vast. Again, you'll want to consider your home's style and look when choosing a portico design. But here are some ideas you may want to consider:
Portico with craftsman columns over brick

A half-moon shaped portico with four or more columns
Two sets of portico stairs that go down the sides of the porch
An enclosed portico with faux slate roof

A long portico, supported by six or more columns
Built-in benches or seating in the portico
Portico Porch combination

A portico roof that doubles as an second-level balcony, or faux balcony
Simple portico with matching stone piers and steps

A portico ceiling painted an interesting color, or done in bead board or wood
Addition with side entrance portico

You'll also want to consider planters, benches, rocking chairs, outdoor rugs, and lighting for your portico. Make sure to step back and look at your home's entrance from far away to see what kind of elements would get lost, and what would pop.
Before & After Portico Designs That Didn't Have Curb Appeal
Crafty Revival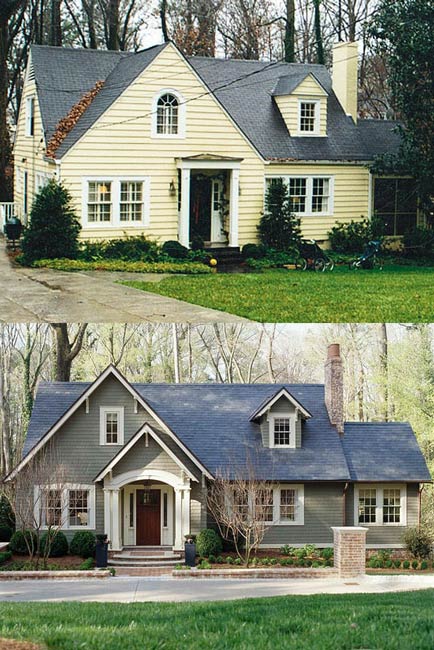 Painted Ranch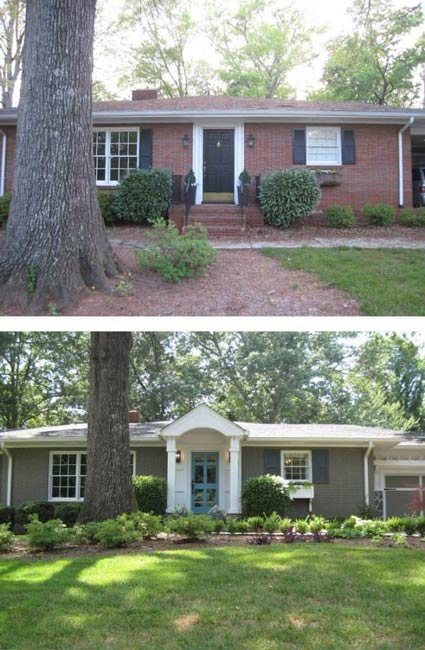 Adding Shutters and Portico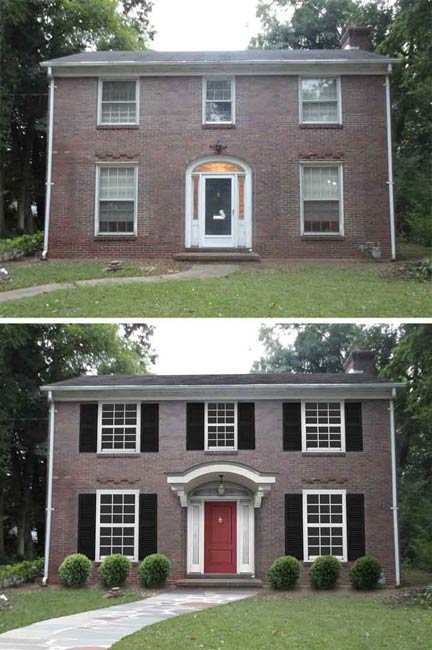 Sometimes you'll come across a portico on a home that just doesn't look right. Maybe it's too large and overpowering. Or perhaps it doesn't blend with the architectural style of the home.
Consider working with a design build team to create a portico for your home. Your team can guide you through the process so you won't end up with an eyesore of a portico.
Some portico "don'ts" to consider:
Don't make the columns too wide, which can appear ungainly
Don't block upper windows
Don't create supports that are too thin
Don't forget to consider depth
Don't forget to consider your current roof's pitch, and eve and fascia details
Don't forget to budget for any re-landscaping that will need to be done
Don't forget semi-permanent objects like planters, benches, and rugs to accessorize a portico
Don't forget to get a building permit before doing work (a step a good design build team will handle)
Whatever your look and budget, a portico is a fun and stylish way to spruce up your home and gain more curb appeal.
If you're looking to do even more to your home, consider an addition. Here are some photos and details on three home additions (including a portico before-and-after photo).
Taking Cues From Your Architectural Styles
We can all agree a modern portico on a Colonial house would probably look out of place. When designing a portico, you want it to blend with the architectural style of your home. The posts, columns, pillars, and other materials you choose should be in harmony with your home, and should be proportionate in size.
When choosing building materials for your portico, take a look at your home. Does the exterior have brick or stone elements? If so, carry those over to the portico design so it looks original. Consider using outdoor tiles, brick, stacked stone, or wooden planks for your porch foundation.
If you already have a stoop or porch that you don't want to get rid of, you can find veneers, slate, brick, or outdoor tile that can be applied on top of your existing surface. Just remember to make your materials selection based on your home's stonework and color palette.
Wondering if a portico design, build, or remodel would revamp your home's exterior? Start a conversation with us today.