Today we're going to share our top 3 favorite home additions on the Main Line. Let us know in the comments which one you liked the most!
Lundy
[image type="thumbnail" float="none" src="https://www.cottageindustriesinc.com/wp-content/uploads/2015/08/Gladwyne-Front-After.jpg" info="none" info_place="top" info_trigger="hover"]
Client style: Contemporary eclectic with some mid century modern mixed in.
Client needs: Other than decorating the interior, the exterior of the home needed to be changed and expanded to reflected the clients style and accommodated their day to day living.  Also, a very dangerous garage driveway condition that required backing out onto a high traffic state road had to be remedied.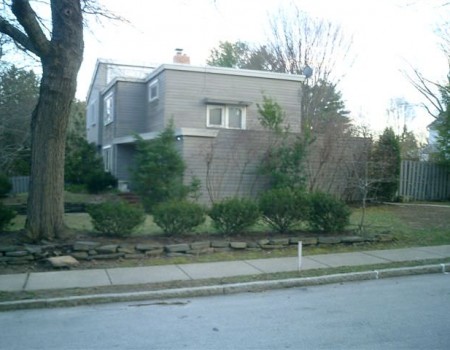 Before: Garage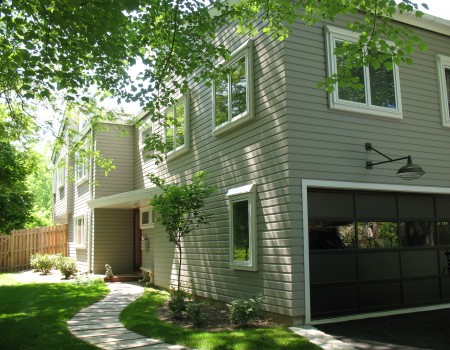 After: Garage
Homes Architectural style: A very tiny, open floor plan, box like home of no particular architectural style on a very tight, high profile, corner lot in Gladwyne.
Houses needs: Generally in good condition with some minor exterior siding damage and poorly built flat roof conditions. Very small house and lot
Budget challenge: Medium
Design Challenges: Convert the exterior of the home to an interesting and stylish contemporary. Preserve a new masonry patio immediately adjacent to the side of the house while still expanding on that same side (due to set backs) and acquire a variances from both the Pennsylvania and the Lower Merion to relocate the garage and driveway to a safer location that zoning did not allow.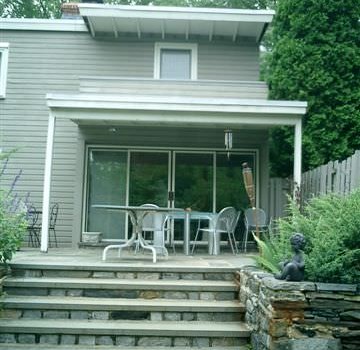 Before: Bathroom Side Exterior
Design solutions: Add bookend additions to the sides of the home with contemporary half pitched gables and clear story windows. The left side is a "floating" second story addition open below to preserve the existing masonry patio and housing a stylish yet funky master bathroom. The right side addition is a two story with a two car garage and driveway facing a quiet side street, the second floor is a large family room with high open ceilings. Cantilevered addition sections and juxtaposition of strong horizontals and diagonals give the façade of this gorgeous contemporary lively textural movement.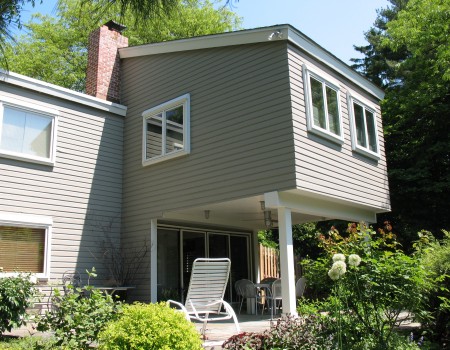 After: Bathroom Side Exterior
This project was deeply rewarding both because of the numerous challenges the home and lot presented. No matter what the hurdles were thrown in our way I was not going to have my clients live with their dangerous driveway and I get to drive by it several times and week and it is still beautiful.
Mulvanerty
[image type="thumbnail" float="none" src="https://www.cottageindustriesinc.com/wp-content/uploads/2015/08/Side-1-After-close-up.jpg" info="none" info_place="top" info_trigger="hover"]
Client style: 19th century restored antique but very clean, new and functional.
Client needs: A family gathering space for their large family of six to be together to eat and cook, do homework, projects and watch television. A new kitchen, a proper master suite, enough bedrooms for the children, a mudroom to catch an enormous amount of jackets, shoes and sports equipment.

Before: Front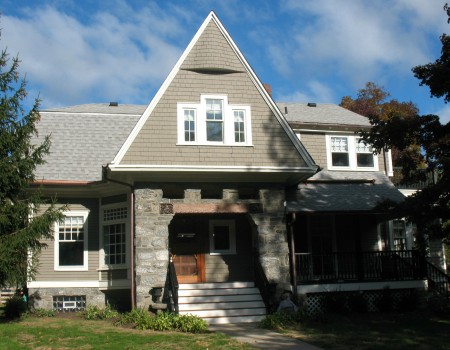 After: Front
Homes Architectural style: 1880's Wayne Victorian era with both Craftsman and Shingle Style architectural features and a dreadful one story, flat roofed "box" apartment addition on the back.
Houses needs: This home is one of the most prominent in Wayne but had suffered from fifty years of delayed maintenance and neglect. Hiding behind huge over grown trees and hedges the poorly installed aluminum siding and pole gutters had caused substantial rot and damage to the entire exterior of the home. An existing wart of an addition and no master bedroom.
Budget challenge: Medium high
Design Challenges: The layout of the existing house was keeping the family from spending time together by splitting activities all over the house. The kitchen was small and isolated. The only play space was in the partially finished basement, the only homework/computer spaces were in the bedrooms, there was no master bedroom/bath and the prettiest room in the house, the formal living room was being used as a television space. The existing apartment on the back, was a rabbit warren of rooms and was only connected to the interior of the house through the dining room and was five steps lower than the first floor of the home giving us a seemingly insurmountable connection problem.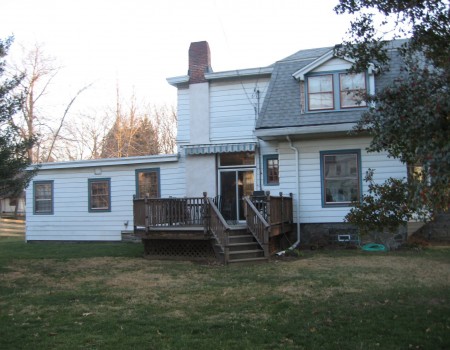 Before: Side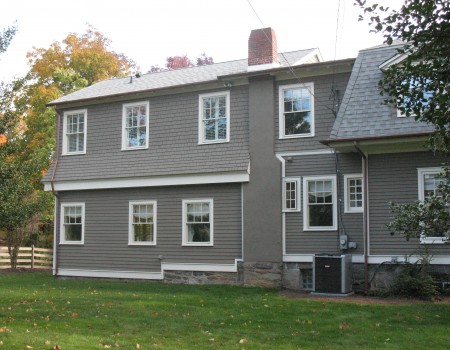 After: Side
Design solutions: The budget was not enough to remove the box addition. We had to take full advantage of it to meet the financial goal. We removed all the interior walls of the apartment and redesigned the space to become the new kitchen, family room and mudroom, using a broad half stair case connected to the center hall we created a wet bar and traditional butler's pantry as the gradual transitional point between the upper and lower levels. On the flat roof of the addition we built a master suite with vaulted ceiling, walk in closets and a luxurious bathroom. The budget would not allow for an entire second floor above the flat roof, so we finished the remainder with a second floor porch accessed from the new master bedroom.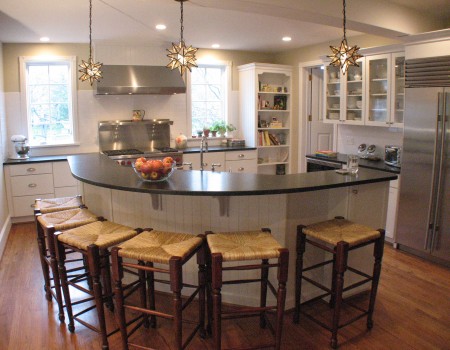 Contemporary Kitchen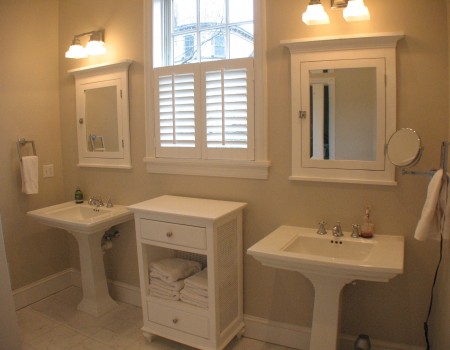 Master Bath
I love to go back and see how the lives of our clients are changed by the work that we do.  Adapting a 19th century home for a family of six creating space for them to be together as a family and have it function in the modern world yet stay true to the exceptional architecture of these antique homes is the most difficult construction challenge and also the most rewarding. I am very proud to say we won the Radnor Historical Societies Preservation Award for our work on this home without sacrificing a single one of our client's goals.
Donovan
[image type="thumbnail" float="none" src="https://www.cottageindustriesinc.com/wp-content/uploads/2015/08/Front-after-1.jpg" info="none" info_place="top" info_trigger="hover"]
Client style: Their goal was to stay true to the Colonial Revival nature of the Cape Cod style, reproducing its existing finishes and only modernizing where necessary.
Client needs: Marion and John had raised their family in a large Wayne Victorian and wanted to down size and simplify their lives now that kids had all moved out. They purchased a cute stone Cape Cod a block from their home of 30 years and needed to fit their lives into a much smaller space.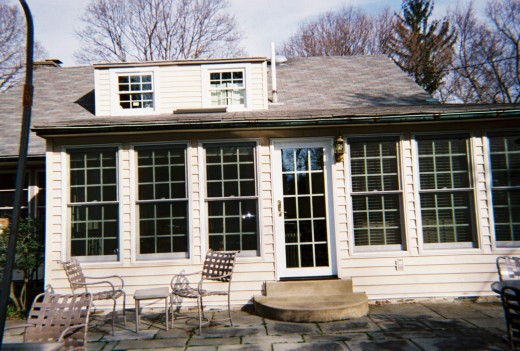 Before: Rear
Homes Architectural style: 1940's stone 1 ½ story Cape Cod with small, poorly designed rear facing garage addition and once open side porch poorly enclosed in the 1960's
Houses needs: The house was in good condition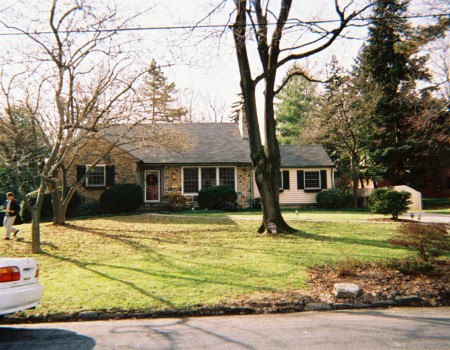 Before: Front
Budget challenge: Low but conservative
Design Challenges: The client was used to substantially more space than the house could provide. Even when the goal is to downsize it can be very challenging when deciding what exactly this means. What to dispose of? They still needed the flexibility for family over night visits, future grandchildren and the possibility of a child moving back home. The house needed a proper family room. They also wanted a first floor master suite to accommodate their desire to age in place and a proper two car garage that did not use up so much of the back yard outdoor entertaining area.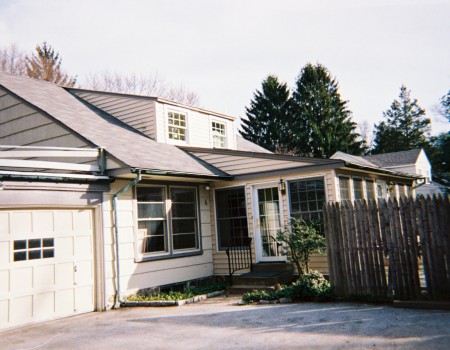 Before: Rear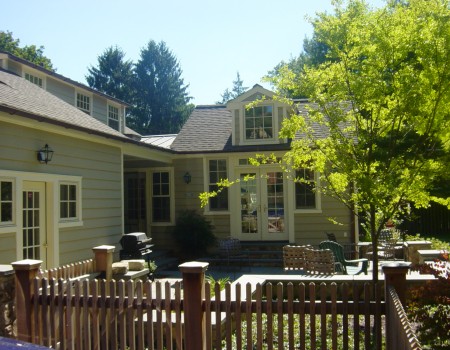 After: Rear
Design solutions: When adding substantial space to a small compact home like a Cape Cod the tendency is to overwhelm the existing structure with new dormers and additions that provides the space on the interior but leaves an awkward top heavy architecture. To avoid this problem most of what we added is tucked behind the house, with a side facing two car garage hidden behind the reworked side porch. We created space and light for the new second floor rooms with two dormers cut down into the roof line to reduce their visual mass and expanded the roofline above the front entry to a feeling of texture and depth while minimizing mass.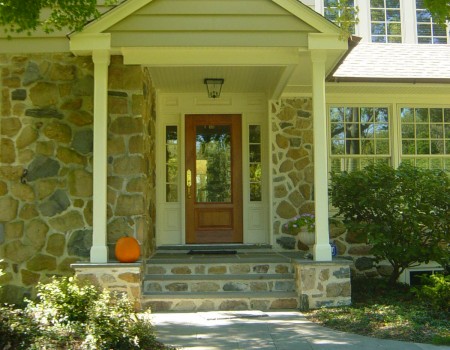 Portico
To learn more about how we service our clients, please click on the banner below to download our brochure.