Large kitchens can be seen as a luxury. However, finding the right layout can be a challenge. You want to organize your space in such a way that the room is both functional and beautiful. Adding banquette seating is an approach we sometimes suggest as it not only helps to break up a challenging space, but it also adds terrific functionality.
Kitchen Banquette Pros And Cons
You've likely seen banquettes before, like bench seating in either a restaurant or an office. They can be one long, straight bench, or they could be curved, like a booth. A banquette can give you a lot of bang for the buck, but it's not for everyone.
On the plus side, a banquette can maximize your seating without taking up a lot of space. It can also beautify and add functionality you wouldn't have otherwise. For example, your banquette could provide you with extra storage space beneath the seats. As the seats themselves can be upholstered, they can also match your décor very nicely.
In short, a banquette is versatile and design-friendly. It can be as plain or fancy as you like, and it can add a new dimension to your kitchen. For example, a banquette would allow you to delineate a formal dining area within the kitchen, breaking up the open space and making it look like two separate rooms.
On the downside, because they are a built-in feature, they are generally not moveable. So, if you're the kind of person who likes to change things up now and then, a permanent fixture like a banquette might not be for you.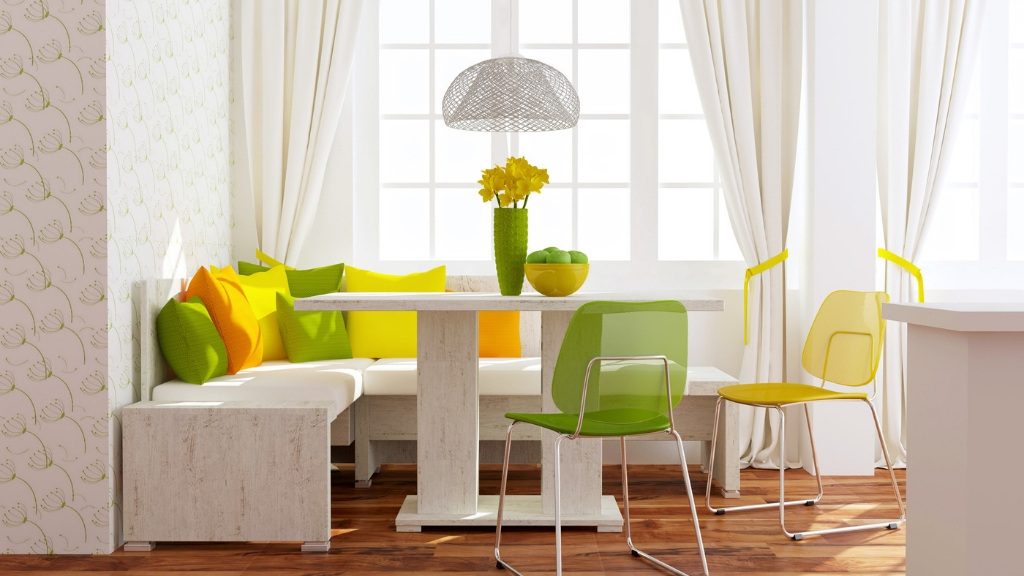 Banquette Ideas
A large multi-use kitchen is a great place for a banquette, adding seating around one side of a kitchen island, or off to one side to create a separate eating or work area. It's a more informal look, so it wouldn't necessarily replace your dining room.
Odd-shaped rooms are also great for banquettes. If you have an alcove, for example, you might think about putting in two facing banquettes with a dining table in the middle.
Additionally, since the banquette is placed against the wall, you will still be able to maintain a good flow of traffic around the kitchen. If you have stairs in the kitchen, for instance, the banquette could be placed in such a way that the staircase looks like it has a better flow with the rest of the room.
A u-shaped banquette can double as a window seat. The colors and fabric you choose for the cushions can add a layer of texture to your décor. A banquette in a corner, whether right-angled or curved, can give you a diner-style retro look.
If you or your kids do a lot of projects in the kitchen, a long banquette is great because it encourages collaboration. Your children can work and play side-by-side.
To change up the look of the banquette, add some throw cushions in contrasting colors.
Install a banquette with a kitchen dining table on one side of your island to create a seamless flow. Loose chairs can be placed on the opposite side.
Cost Considerations For Banquettes
Banquettes can be simple, plain, and unadorned, or, you can upholster it to match your interior décor. If you choose fancy finishes, like high-end seat cushions or fabric, custom drawer inserts, or intricate trim, you will likely see a higher cost.
Depending on where it is located in the room, you will likely need to build panels around it to make it look like it is built-in, and this may drive your costs a little higher.
Creating Zones In A Large Kitchen
Designing a large kitchen isn't always an easy task. If you've still got a lot of space to fill, you still need to make sure the layout still provides good traffic flow and a workable kitchen triangle.
Creating zones within the kitchen gives you better functionality. Zones deliver a visual impact and having a banquette can help. You can still have your kitchen island with a few stools around it for when friends drop by, and your banquette and the table that goes with it can be where you go to sit and enjoy a meal, help the kids with their homework, or do arts and crafts projects.
Have you been wondering whether a banquette would be right for your large Main Line kitchen? We'd love to help you decide. Reach out today to learn more about what we can do to help.