How much does a complete kitchen remodel cost?
This is the number one question we are asked with regard to home upgrades. Most know that kitchen remodels are generally one of the most expensive of all remodeling jobs, but it pays dividends in the end as it adds a tremendous amount of value to your home – and it helps boost your family's enjoyment of the space.
Kitchen Remodel: Cost vs. Value
While a kitchen remodel might not be on your priority list while you are living in the house, if you decide to sell, it will not only show better, but it will significantly raise the value of your home. Statistically, you can expect a return on your kitchen remodel investment of up to 80 percent or more, but it really depends on the scope of the job.
There are several variables that will affect your cost in the end.
These include:
Square footage of the kitchen

Whether it is a new kitchen or an upgrade

Custom cabinetry? or stock?

Materials, such as granite countertops and so on

Personal wants and needs
If you are remodeling the kitchen for your own personal needs, you will likely want to think about the features you would like most. Countertops, backsplashes, appliances, cabinetry – all of these things figure into both the design and the cost in the end.
If this is the case, here are some things you should think about:
What is your budget?

What don't you like about your current kitchen?

How much storage do you need?
These are all key considerations. Your budget always comes first, of course. Ultimately, think about how you envision your new kitchen being used. Will it be strictly for cooking and storage? Or do you see it as a gathering place for family and friends? Knowing the answers to these questions will help you decide on a viable kitchen remodel plan.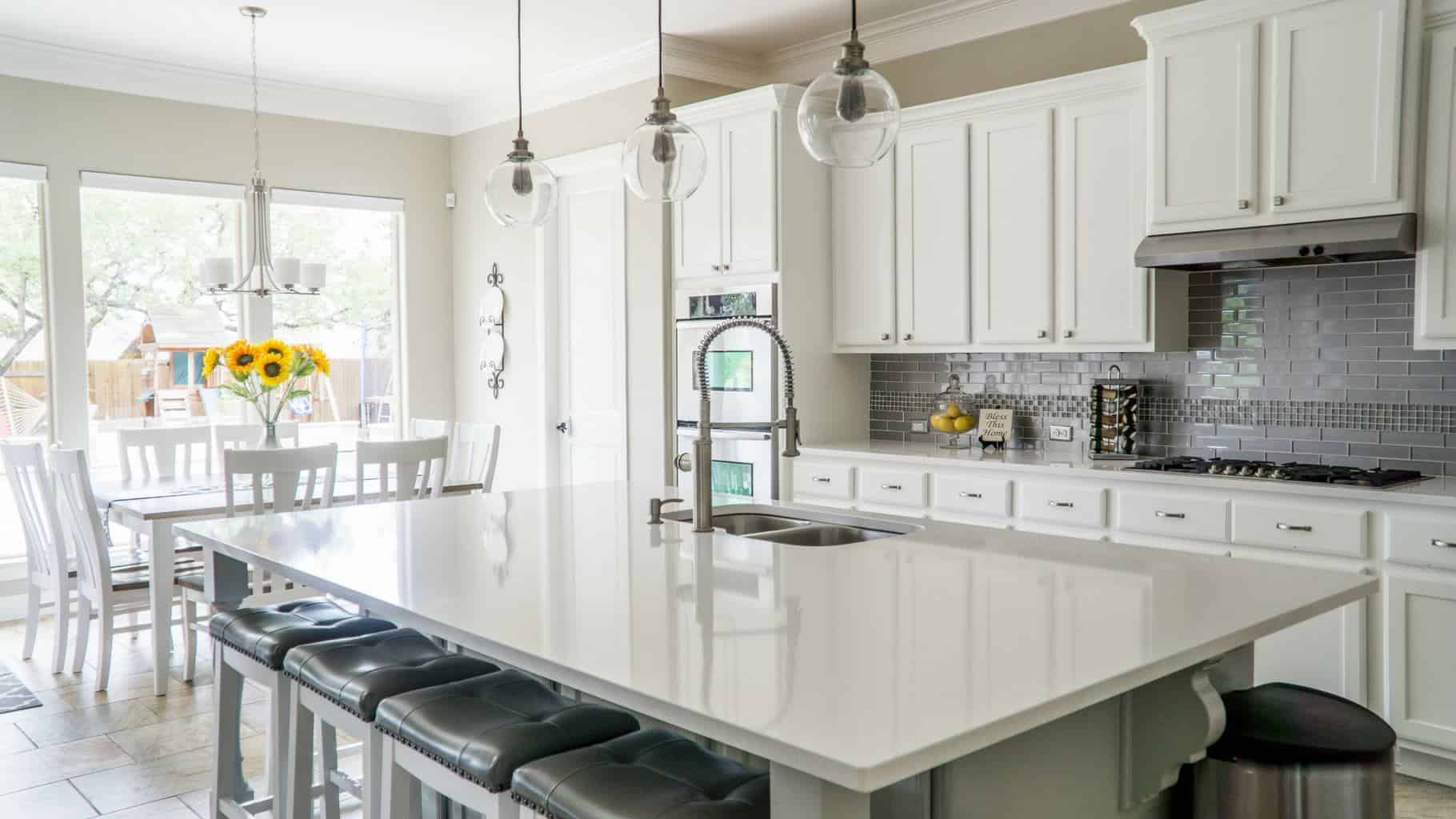 Practical Aspects of a Kitchen Remodel
When we speak to homeowners about kitchen remodels, these are the most common questions we are asked:
How long will it take?
The time it will take to remodel your kitchen depends largely on the scope of the work that needs to be done. If it is just changing a few details, it will likely not take as long as a complete overhaul. Size matters, too, as does the impact to the surrounding spaces. A complete kitchen remodel may take six to 10 weeks, not including the planning and design phase.
How can I control the costs?
Certain materials and features can be incredibly costly. However, if you are on a budget, there are often alternatives that look and function just as well without the high price tag. We are always happy to help you understand your choices.
Why should I remodel?
There are many reasons to remodel your kitchen. You may want a more open, spacious feel to the kitchen or, if you enjoy entertaining, you may want to make your kitchen more welcoming for friends and family. Remodeling your kitchen will allow you to add certain features and functions, such as an island, more storage, or modern, updated appliances.
Always keep your budget top-of-mind
When budgeting for your new kitchen, you have many things to consider. Certain materials can drive the cost up, but there are often alternatives that can give you the look and quality you want without breaking the bank. Speak to us about your vision and we will give you plenty to think about. We will always work with you to ensure you get the result you want within the budget you choose.
How much does a kitchen renovation really cost?
The answer to this question is complex – it depends. As one of the more costly upgrades you can make to your home, it can range anywhere from $25K to $100K or more. The materials you choose, the appliances, and the features you want have the potential to drive the price into the upper margins. However, if you have a budget in mind, there are many ways to achieve the look and functionality you want at a price that is within your range.
In conclusion, no matter what you decide to do with your kitchen, make sure it doesn't compromise or clash with the architecture of your home. If you would like to learn more about how a kitchen remodel can improve the beauty and value of your home, reach out today. We'd love to show you how we can help.