It's likely the house you currently live in wasn't built or designed with older age in mind. But as the years pass, health issues like hearing and vision loss, arthritis, and balance impairment can make living in our homes a challenge.
But there's good news: Most homes can be redesigned to better accommodate the health challenges we face as we age. And, the remodeling can be done stylishly, without making your home feel sterile or hospital-like.
Read on for our remodeling ideas for aging in place.
What is aging in place?
Aging in place refers to people of advanced age living in their homes as long as possible, instead of moving into an assisted living facility or nursing home before they need advanced care.
Nearly 75 percent of people wish to stay in their homes as they age, according to a 2010 poll conducted by the AARP. In order to age in place safely, homes can be equipped to accommodate the increasing and diverse needs of older residents.
Challenges and changes
As we get older, day-to-day tasks in our homes can become more challenging. Arthritis can make opening cabinets and drawers, or turning on faucets, difficult. It can be hard to maneuver a walker or wheelchair through narrow doorways. Thresholds become tripping hazards, and bathrooms can cause slips and falls.
Ailments and degenerative diseases can turn once comfortable homes into challenging places to live. Some aging in place changes can be simple and inexpensive to make, such as placing paddle handles on doors and faucets, or adding a stair climber. Other changes, like building a first-floor master suite or installing an elevator require a more substantial investment.
Time for a remodel
Whether you want to remodel to age in place, or you're doing a remodel and want to prepare in advance for aging, here are four areas and design ideas to consider:
1) Accessibility: You'll need to be able to enter your home and gain access to the second floor. Design options include:
– Reconfiguring stairs
– Adding an elevator or stair inclinator
– Widening doorways
– Lowering thresholds
– Adding handrails and easier-to-turn knobs
Case study: We doubled the size of this turn of the century Wayne Victorian and added an suite for the grandmother to age in place. By utilizing old world building techniques, custom made wood moldings and matching finishes, we were able to seamlessly blend the 3000 square foot addition with the unique Victorian Architecture of this exceptional home.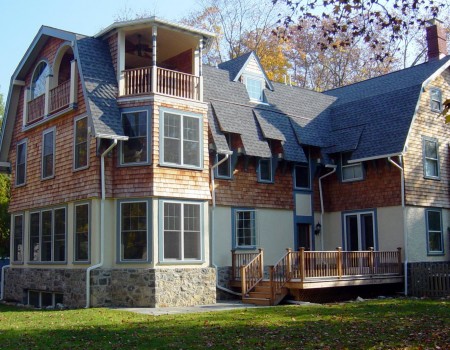 Wayne Victorian Exterior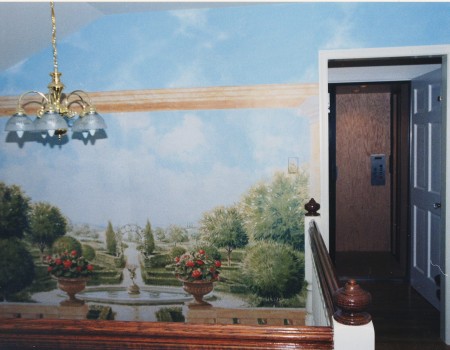 Grandmother's elevator on the 3rd floor suite
Looking for more layout ideas? Read about optimum kitchen layouts.
2) Safety: Slips and falls can happen more often as balance becomes challenging with age or disease. There are steps you can take to make your home safer and possibly prevent falls:
– Replace steep stairs with steps offering a gentler incline
– Add handles and grab bars around the home, and in bathrooms
– Use non-slip surfaces in bathrooms
Also read more bathroom remodeling ideas, including how to keep renovation costs  in check.
3) Comfort of use: You'll want your home to not only be functional as you age, but comfortable to use and move around in. Consider:
– Making rooms more open or private, depending on your needs
– Replacing handles and knobs
– Rethinking storage, and providing easy access to most-used items
– Floor surfaces designed for comfort (carpet vs. tile)
– Better lighting, including switches or dimmers located near seating
4) Security: A monitored home security system means help is always available if you have an accident in the home, or there's an emergency such as a gas leak or fire. They also help prevent break-ins, which the elderly can be targets of. Even if it's never needed, a security system provides peace of mind for both you and your family. Consider these hi-tech (yet easy to use) systems:
– Video monitors, and cameras to view the front door
– Home automation, like remote controlled lighting and heating and cooling, so you don't have to get up to turn off the lights or turn up the heat
Will all these changes leave your home looking sterile, or hospital-like? They don't have to. A good design/build team will use the principles of universal design (creating and remodeling spaces to be accessible for older people and the disabled) to make your home not only safer to live in, but comfortable and stylish.
Of course, every home and every family's situation is unique. Contact us at Cottage Industries, Inc., to discuss your home and how we can help you plan to age in place.