Ah, the bathroom! It can be the center of activity (especially on a Monday morning!), or it can be the place where you go to relax in a warm tub with a good book and glass of wine. No wonder more and more people are spending time and money improving this sacred space.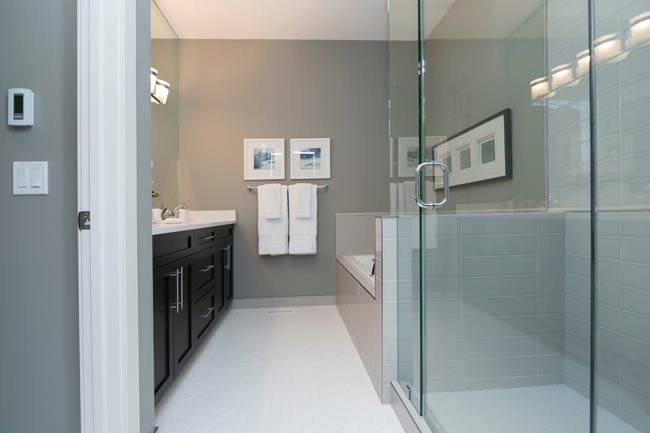 At Cottage Industries, we love remodeling bathrooms and creating calm oases for our clients. When we sit down with clients to discuss their ideas for the bathroom, we always review factors that affect a bathroom renovation's overall cost. Here are seven to keep in mind.
1. Countertops. When people hear the word "countertop," they often think of materials like granite or laminates. But there are so many options available—all at various price points. It can be enough to overwhelm and confuse.
Luxurious materials (such as marble) or unique materials (such as custom formed concrete or solid glass) will increase the price. So, too, will the labor involved with fancier edge treatments. For example, an ogee edge is more labor-intensive than an eased edge.
Your best bet is to consult with your design/build firm and have the design professionals guide you not only on the myriad materials available, but also on what will work best for your particular space and the design you have in mind.
2. Tile. How much tile you opt for will definitely affect the price (e.g. tiling the whole bathroom vs. tiling select areas, such as the sink's backsplash). And, once again, the type of tile you choose plays a huge role (e.g. natural stone, artistic ropes, borders, inlays, mosaics, hand crafted tiles). Materials can range from $3/sf to well in excess of $30 or $40 /sf and up. Keep in mind that intricate patterns cost more in labor, even a diagonal layout will cost more in both labor and material costs. Adding electric floor warmer mats under tile adds cost, but it's a fantastic feature, especially on chilly winter mornings.
3. Layout. Moving walls and moving fixtures will drive up costs, often significantly. That said, the new space could very well be worth it. Communicate your specific needs and goals with your design/build firm. Maximizing existing space is always a top priority, but sometimes a layout change is necessary.
4. Cabinetry. The adage "you get what you pay for" is true when it comes to cabinetry. Big box stores offer cheaper options, but these cabinets don't always hold up as well over time, which could be a problem if this is your "forever" home and/or if the bathroom sees a lot of traffic. You can usually find good mid-range cabinets in local cabinet showrooms (definitely shop around). High-end, custom-built cabinetry will be designed to your specifications—and will give your bathroom a truly one-of-a-kind look.
5. Light fixtures. Lighting is important, since you need even lighting for those everyday activities like shaving, applying makeup, and other grooming essentials. You'll want to make sure the area around the sink and mirror is lit properly (same for the shower/bathing area). You'll also need to make sure whatever fixtures you choose are approved for damp areas.
The biggest effect on cost will be the fixture selections themselves, the number of fixtures, and the switching required (e.g. dimmers, 3-way switching).
6. Plumbing. The plumbing price tag depends on the renovation's complexity. Two of the biggest factors affecting price include:
Moving fixtures/toilets to new locations
Replacing pipes (sometimes all the way to the basement)
Remember, the price tag covers not only the materials themselves, but also the installation.
7. Amenities. When it comes to amenities, the sky's the limit in today's bathrooms. Think steam units, whirlpool tubs, extra-large showers with multiple heads and controls, heated floors, towel warmers, even mini-bars (yes, really). All are wonderful and can go a long way in creating a relaxing space that you can call your own, but the more amenities you have, the pricier your bathroom remodel will be.
By the way, if you're trying to get a sense of different "average" renovation costs for your area (and not just bathrooms, but all spaces in the home), check out this excellent resource: Remodeling Magazine's "Cost vs. Value" Report.
And, of course, if you're in Philly or the Main Line area and you're thinking about a bathroom remodel, reach out to us. We'd love to sit down with you and discuss your ideas.