There's a lot involved in a typical interior remodeling project. Whether you're undertaking a bathroom or kitchen remodeling project, it takes careful planning and consideration to ensure a successful renovation process. But apart from choosing different materials, colors and textures for your design, you also need to plan on how they can be anchored together. That means looking for the right focal point for your interior design.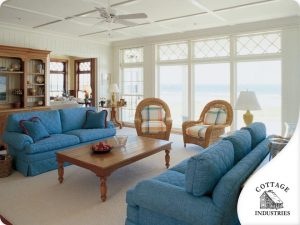 How Are Focal Points Important?
In terms of interior design, focal points are essentially main subjects that draw the eye. The term is also used in painting and photography as they're the subjects that the eye or lens are focused on in the work. A focal point isn't normally a wall, flooring or ceiling as the idea is to draw the eye towards the room rather than just around it.
A focal point can be any object or a group of objects as long as they serve the purpose of drawing the most attention out of the other areas of a room. It should stand out in a way that catches the curious onlooker and draws them in to look closer. A focal point can also help make a room look more spacious, such as a freestanding tub in a bathroom along with a few mirrors that cover one side of the space. It also helps give a strong sense of order in a room that may otherwise look chaotic or unappealing!
Focal Point Ideas to Consider
Be it a bedroom, living room or even full home additions, there should always be a focal point to keep all the design elements together. But if you're not sure how you can achieve this in your home, here a few design tips to keep in mind:
Consider Each Room's Architecture 
The rooms in your home are designed differently to reflect the purpose they're meant to serve. Observe how your room is designed so that you'll be able to get a good focal point that helps it stand out more. For instance, your bathroom remodel can feature a luxurious vanity as a focal point, complete with a light-up mirror and enough storage space for all your towels and toiletries!

The Foyer 
The foyer will be the first place your visitors notice once they come inside your home. This is often a good place to make a good impression, and a focal point is an effective way to achieve this.
Quick tip: The focal point should immediately grab people's attention in a way that makes them feel more relaxed and comfortable. This is why you'll often see family pictures on walls near the entry door, but they can also be mirrors or abstract pieces.
The Kitchen 
Since the kitchen is one of the few places in your home that gets a lot of human traffic, your kitchen remodeling design should meet your needs and preferences. But while you're selecting materials for your countertops, appliances and cabinets, it's also possible to create a focal point to make the place even more inviting.
Quick tip: A popular focal point that's used in almost any kitchen design tends to be the backsplash, and it can be done by enhancing your current one with complementary design elements or replacing it with a new one that can stand out in your kitchen space.
The Living Room
This is another space that gets a lot of daily human interaction, and the types of focal points used here are usually big furniture pieces or accent walls. You might already have a large furniture piece in your current living room, such as a coffee table or a bookshelf. Tt can still be used as a good focal point as long as it complements your interior remodeling design.
Quick tip: As trusted professionals in home additions, oversized paintings and other large art pieces can also be used as focal points in a living room, especially if you have big walls. If the paint color for your walls is neutral, they can serve as a good contrasting backdrop to the more colorful art pieces and statues. You can even consider adding wallpaper designs and textures to complement your chosen focal point. And if you have high ceilings, a chandelier can be a perfect piece to emphasize its height!
The Bedroom 
The usual focal points in any type of bedroom are the beds, and they can come in different shapes and styles. For instance, if you're remodeling a master bedroom, your bed can have a big cushioned headboard along with pillows and blankets that match your interior design.
Of course, you don't have to limit yourself to having beds as your focal point; you can also make use of accent walls or other objects to draw attention. Some bedrooms will also have different display pieces that are meant to invoke a sense of calm and relaxation. These focal points can be simply large paintings or mirrors on their walls while others are more intricate, having antique bookshelves and cabinets.
Quick tip: If you're aiming to have that vintage look for your bedroom, you can always consult with specialists in antique and historic restorations. You can even arrange your lighting as the main focal point in your bedroom! You can also add a small table with chairs or a couch to lounge in if your bedroom has the space for it. Not only are they great as focal points, but they can also serve as a nice place to sit and read before going to bed.
The Dining Room 
If you have a separate dining room and kitchen, you can turn it into one of the most elegant rooms in your home. Even if they're not always used every day, your dining room should still have a focal point to tie all its design elements together. Whether you're aiming for a traditional or contemporary style, the dining room must have a good focal point that enhances its interior design.
Quick tip: Light fixtures are popular focal points in most dining rooms, especially if they're placed right above the dining tables. Other furniture pieces like cupboards displaying crockery and cutlery can also be good focal points as well as stylish dining tables and chairs that stand out dramatically in the room.
When it comes to premier whole-home renovations and historic restorations, Cottage Industries is a top contractor in the area. Call us at (610) 293-9750, and we'll discuss your next remodeling project! You can also reach us through our online request form.