How do you and your family gather for meals? It's an important question to consider when coming up with dining room design ideas. You want your dining area to best reflect your dining style—whether you prefer to eat in a cozy, intimate space, or want to encourage the whole family to gather around the kitchen island to chow down or hang out.
Making your kitchen into an eat-in space is a popular choice for many families. But what is the right design for your eat-in kitchen? By honing in on your dining style you can create the eat-in kitchen that works best for everyone in your household.
There are plenty of eat-in kitchen and dining room design ideas out there, and today we'll go over five options that could make your space a success.
Go big with your dining table
If you have a large clan, like to entertain, or love getting the whole family together for a meal, a large dining table could be the way to go. Center your eat-in kitchen design around providing room for a big table with plenty of seating.
Also consider placement of your table in your design. You may want it to be close to your food prep area, so whoever is manning the stove or oven can still take part in conversation at the table.
Are you considering whether an open concept kitchen is for you? Read this post for insight on whether an open concept kitchen fits your lifestyle.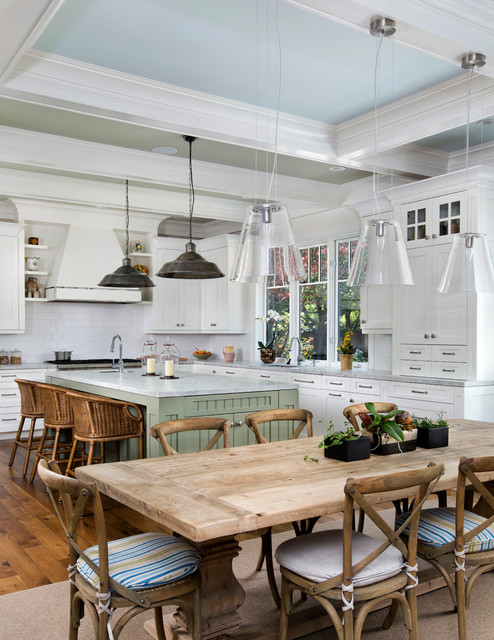 Add a breakfast nook
Maybe you're an empty nester who loves to spend a leisurely morning with a cup of coffee and the newspaper. Or you're a young couple who loves dining in an intimate space. Whatever the case may be, adding a breakfast nook could be the choice for those looking to relax in their eat-in kitchen or dining room.
Check out antique shops and flea markets for a cute little café table. If your kitchen or dining room has a window, take advantage of the natural light, or view, by placing your table near it. Then, outfit your nook with comfy chairs or benches, and prepare to sit back, sip, and relax!
Surround your table with booth seating
Booth seating is a great way to define your dining area, and can be an effective way to provide plenty of seating in a small dining space. Place your table under a window, and surround your dining table with booth seating on two sides. Or make room for even more people at the table by extending the booth to three sides.
Make sure to choose some comfy booth cushions in a fun fabric that complements your style and décor. Your booths will offer a great place for eating and working, alike.
Build a banquette
If you are looking for an alternative to booth seating, consider adding a banquette as a dining room design idea. Do so by creating benches along two adjoining walls, or even along just one wall. This is a great idea for kitchens with narrow spaces, as you don't need room for chairs on both sides of the table.
And, there's an added benefit of having a banquette. You can choose benches with hidden storage inside—the perfect place to stash a few board games, linens, or anything else you want to tuck away.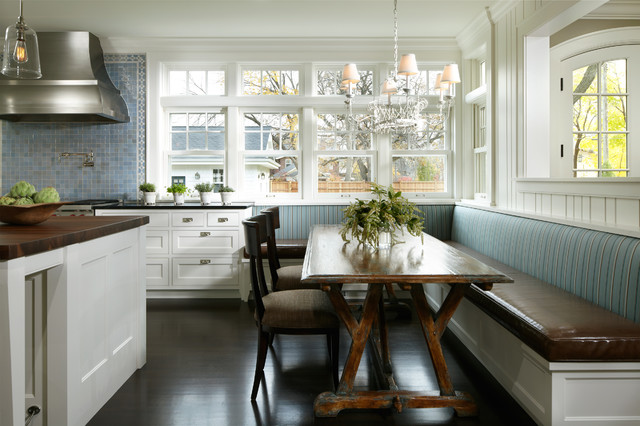 Go for an extended island or chef's table seating
If your kitchen is truly the place where your family gathers most, be it for meals, homework time, or just to hang out, consider an extended island or chef's table.
With an extended island, you'll have space at one end for food prep and cooking, while your family can sit and relax or work at the other end of the island. Or, place a chef's table front and center in your kitchen, instead of an island, and encourage your family to belly up.
If you're also looking for design inspiration for your family room, check out these top eight family room remodeling ideas.
Are you planning a kitchen or dining area remodel? We're happy to help you brainstorm the perfect solutions to your eating space needs. Contact us today to get the conversation started!