Many homeowners love to include the latest trends when they remodel their bathrooms. At Cottage Industries, we believe there are trends, and then there are smart trends. During our initial consultations, we bring our years of experience to help clients understand the difference.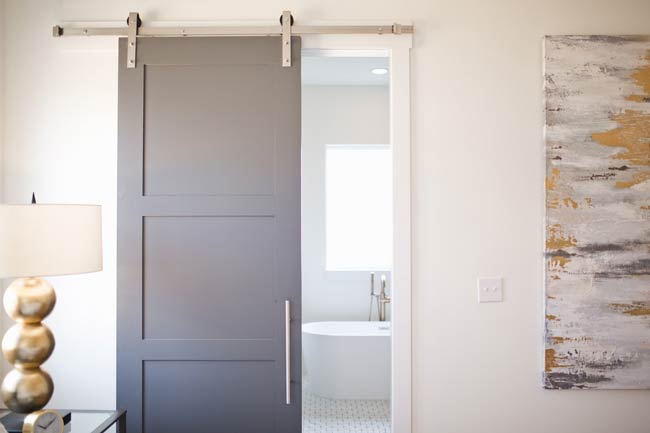 The truth is, great bathroom design is as much about how the finished project functions, as how it looks – though it's always nice when it looks fantastic. Great design results in a room that functions better, is easier to maintain, and meets the needs of your family's lifestyle.
A curbless shower is a design trend we think more homeowners should fall in love with. Here are our reasons why.
Curbless Showers on the Main Line
Sometimes referred to as accessible, walk-in, or barrier-free, curbless showers add a contemporary appearance to bathrooms while providing an efficient universal design option.  
1. They're Stylish and Sleek: Some homeowners doubt just how contemporary barrier free showers are. But euro-inspired curbless showers add a modern, subtle touch that creates a cool and contemporary spa-type look, with shower bases set to make the entire bath appear to be on a single plane.
2. Improved Accessibility: A curbless shower adheres to universal design principles, making it practical for aging-in-place homeowners. They enable an elderly or wheelchair-bound person easier access, yet have an elegant look that enhances any bath.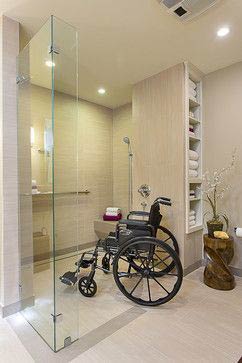 3. Maximize Your Space: You don't need a big bathroom for a barrier-free shower. With a curbless option, the flooring in your bath continues right into the shower stall, with no lip or step required. Paired with a glass shower walls, you'll notice a reduction or elimination of visual impediments, helping to make a small space seem larger than it is.
4. Cleaner Lines: Not all curbless showers are open. Some are contained behind a frameless, glass enclosure, which will give your bath a streamlined, open look, as well as an absolutely seamless sightline.
5. Less Visual Clutter: Glass door enclosures – or no enclosures at all – eliminate the need for a shower curtain, which can result in a less cluttered, closed-in look and feel. With no visual barrier, you can enjoy the outside views. And this modern touch will give your bath the ambience of a luxury spa or high-end hotel. 
6. Easy Cleaning: A totally flat floor surface means fewer nooks and crannies, which makes cleaning a curbless shower nearly effortless. No more scrubbing all those angles that are part of shower stall base; instead, one simple pass of a mop and the floor is clean.
7. Zero Tripping Hazard: Even a one-inch obstruction can be difficult for some people to navigate, so not having to step over a curb can literally be a lifesaver. And don't buy into the myth that you can't have a lot of water sources in an open shower. Your design team will show you how a wet room system (where you can waterproof the entire bathroom floor) lets you enjoy multiple shower heads.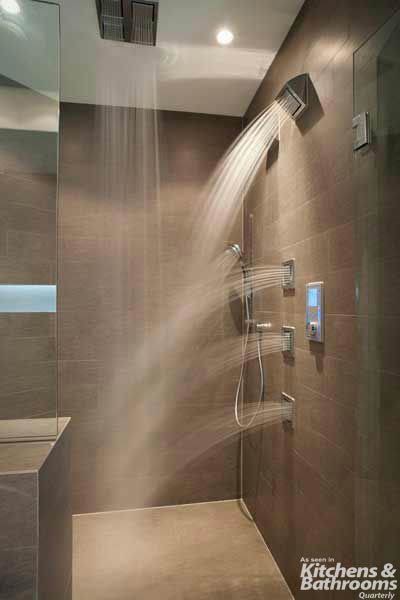 Function and Form
If the words "curbless shower" have always brought to mind words like wheelchair, walker, handicapped, and old, it's time to think again. While a barrier-free shower can be a need for some people, it's so much more. A curbless shower can be a contemporary and stylish look for your bathroom remodel, all while providing a functional design that works for your family's lifestyle.

At Cottage Industries, we design traditional and modern baths for Philadelphia and Main Line area homes that emphasize sleek, clean lines and include smart, modern trends – all while maintaining the integrity of your home's architectural style. It's true it can take a greater amount of planning to effectively pull off the installation of a curbless shower, but the right amount of careful preparation will result in a sleeker new bath you'll enjoy for years to come.