If you are getting ready to remodel your kitchen, you undoubtedly have a massive list of items, colors, features, and fixtures you need to choose. From the backsplash to the window treatments, you want to get it right so you can enjoy it for years to come.
It's those little details that make the biggest impact, and texture is one of them. Texture provides balance, adds dimension, and injects visual interest. It can be a significant element – especially if you've opted for a monotonal white, cream, or grey kitchen.
Keep It Interesting
Too much of anything is just too much. If your cabinets and your countertops are glossy, you want to add some texture to lift the overall design a little. Texture draws the eye, whereas sameness blends into itself. You wouldn't want your beautiful selections to fade into the background, would you?
How To Add Texture In The Kitchen
There are two ways to approach adding texture. First, there is tactile texture – the kind of texture you can feel when you touch an object.
Then, there is implied texture, which is something that is interpreted in a visual sense. For example, if you were to do a tile pattern that created an optical illusion of some sort – that would be implied texture.
Both approaches can be very striking in their own way, but it really depends on what kind of look you're going for. Rougher textures lend a more rustic look while finer textures suggest elegance and formality.
Whichever way you lean, there are lots of simple ways to add texture. Here are a few of our favorites:
Natural Fibers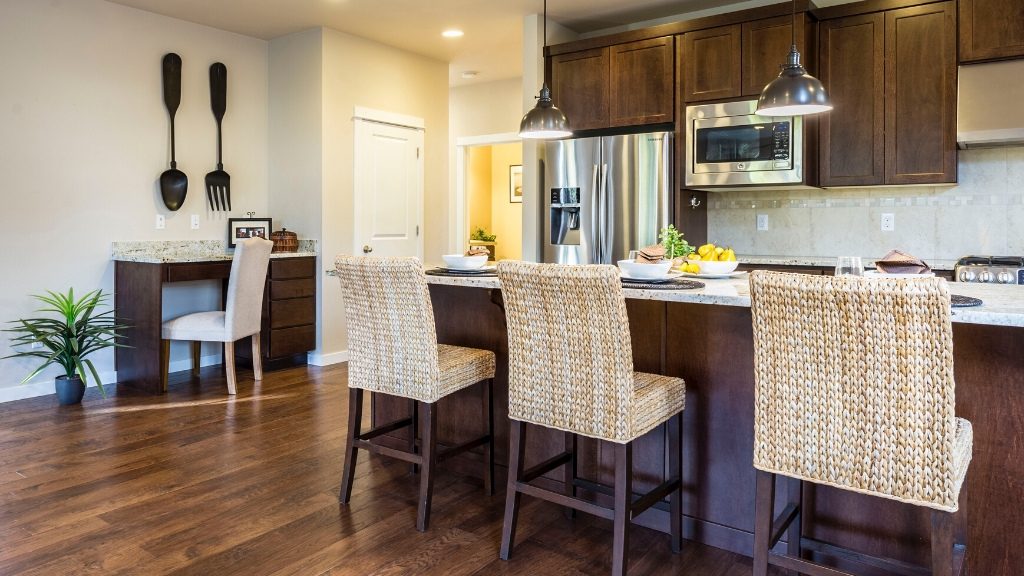 Natural fibers are great as accents. You might think about adding natural fiber grass-cloth shades to your over-island pendants or choosing fiber seats for your island stools.
Wood, bamboo, and cork fall into this category as well. Choose a type of wood with an attractive grain pattern. Cork and bamboo have unique grains as well. They can be used as flooring, for your cabinets, on lampshades, or an accent wall to soften the overall look.
Mix And Match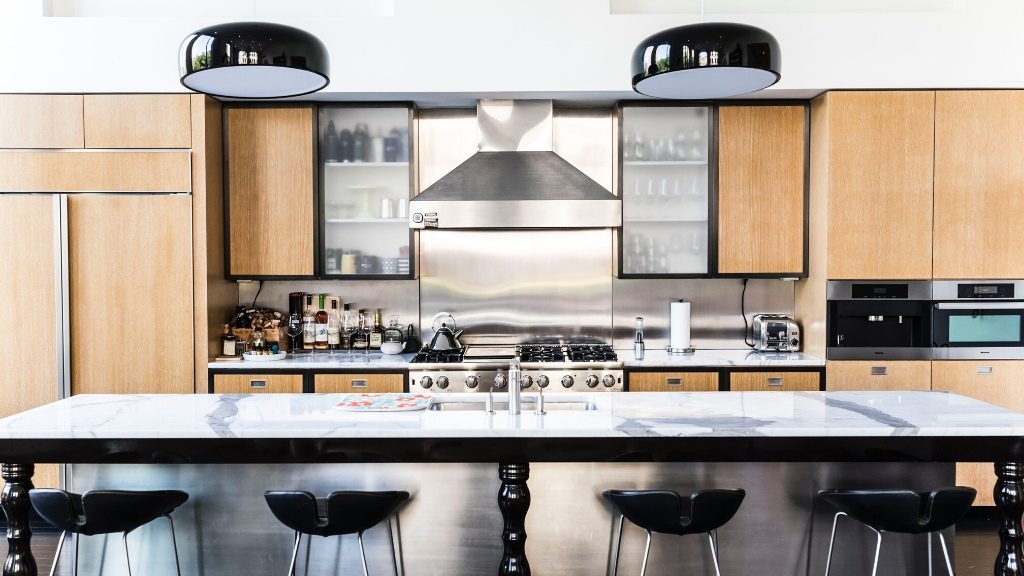 There are no rules that say you have to extend a certain material throughout your entire kitchen. For example, you could do your island cabinet in a wood grain but top it with a glossy quartz countertop. Or, you could choose a glossy enamel for the island cabinet and top it with a butcher block.
Glass, brick, and metal can be mixed and matched as well. If you have brick walls in your kitchen, think about keeping one wall exposed to gain that texture. It will make the glass subway tiles on the backsplash pop all the more.
Backsplash Options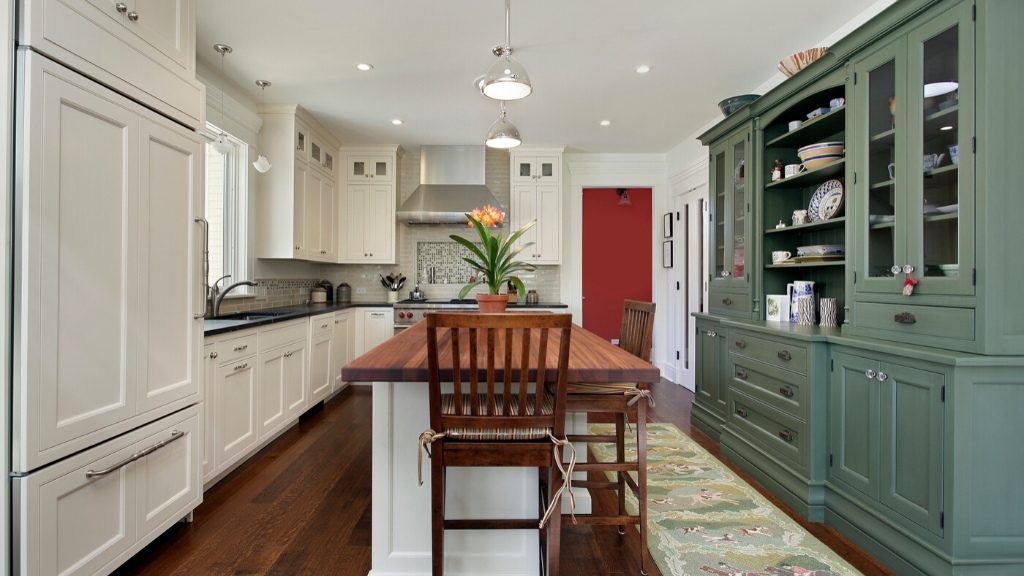 Playing with your backsplash design is another way you can add texture to your kitchen. Tile can be accented with natural stone or stainless steel, or you might choose a contrasting grout color that gives it a three-dimensional look.
Even if you prefer a single color for the backsplash, you could have some fun with the tile pattern itself. Herringbone is very on-trend at the moment, as is stacked tile designs.
Keep in mind, however, if you choose to make your backsplash a little more interesting, you should probably go with a muted countertop. This will ensure that the two elements don't compete for attention.
Accent Walls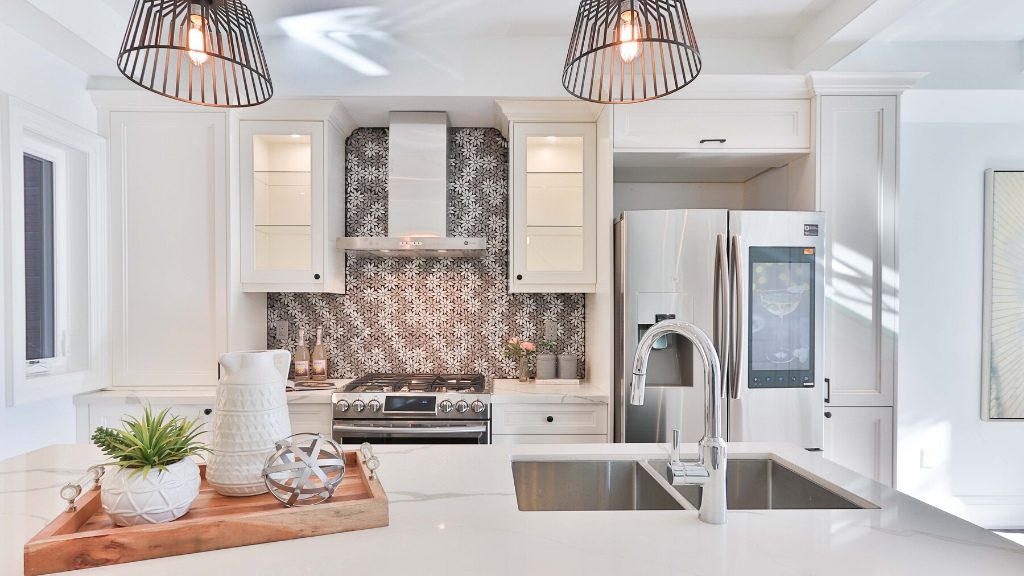 Adding texture to a single wall in the kitchen is another way to go. This allows you to have some fun as there are so many possibilities. You could explore a completely different type of tile, such as soapstone or cement. Beadboard or shiplap is another option, as they add surface texture.
Fixtures And Hardware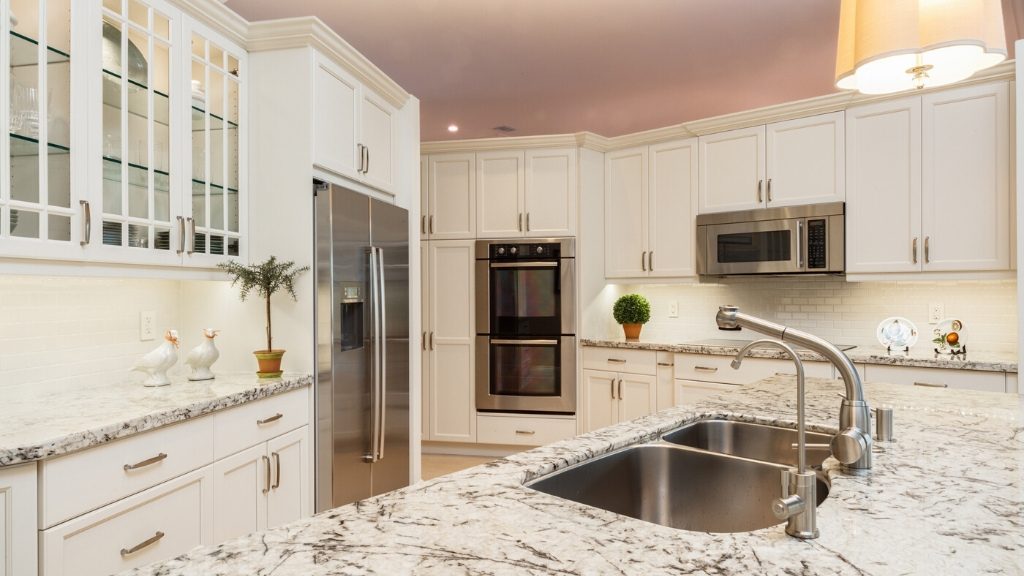 Some of the smallest details can make the biggest impact. Your choice of lighting fixtures, drawer pulls, and even the kitchen sink are other ways to add texture. These items generally come in a wide range of finishes from matte to a high sheen. Think about crystal pendants in varying sizes and shapes, or a matte-finish quartz sink in a darker, contrasting color.
Recessed Or Raised Cabinets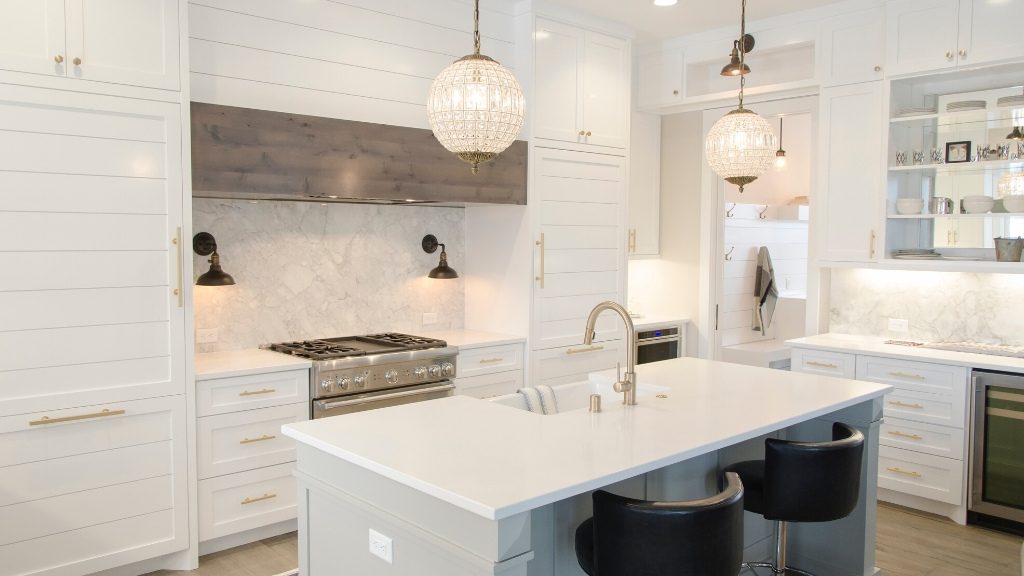 Your cabinet doors themselves can provide texture, even if they are a single color or grain. By choosing a raised or recessed style, you highlight the contours of the cabinet details, giving it a more textured look. Adding crown moldings to the tops of your cabinets are another way to obtain this result.
These are just a few of the ways we add texture in the kitchen, but it really depends on your personal style and what you love. If you would like to learn more, reach out today, and let's start the conversation.