Interior home design in the 1970s leaned towards vibrant colors, loud patterns and the always-present wall paneling. Those who have lived during that era know that wall paneling meant dark, knotty pine (or faux wood) that absorbs all the light inside the room and gives it a cramped, airless feel. The thought of adding wall paneling inside the home can still make some homeowners cringe – but maybe not once they know that this design trend has already come a long way.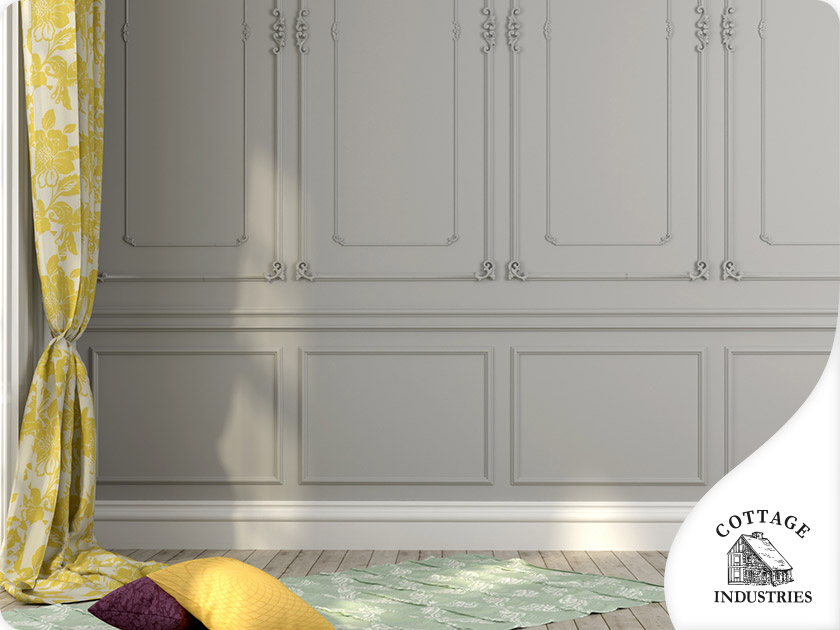 What Is the Purpose of Wall Paneling?
Wall paneling is made by attaching strips of thin, wide sheets of material (or panels) to the walls, with the larger sections generally framed together with narrower strips of the same material. It has evolved into a versatile element that serves a number of interior design purposes. Having it installed horizontally in a room, for example, can give it a sense of dynamism. If you want to make a space appear taller, you may have it installed vertically. Paneling can also be used on ceilings and walls to add visual interest to the room. Not only that – you can use it to hide a few design flaws that may have been glaringly obvious otherwise.
Material Options for Wall Paneling
Whether a project involves kitchen remodeling or wall paneling installation, it's always a good idea to consider your choice of materials carefully. After all, it dictates just how long the surface will last and just how much maintenance it will need. Wall paneling is available in:
Wood. This is the traditional option for wall paneling. There are several wood species to choose from, including walnut, oak, teak and mahogany. If you want something more unique, there's also reclaimed wood, an option that's gaining traction among many homeowners. Wood wall paneling can give any living space a warmer, more natural and timeless look, but may require regular maintenance to keep them looking great.

Veneer. This material is made to resemble wood, but is more cost-effective compared to the real thing. It is made by attaching thin strips of wood to a synthetic backing. Wood veneer paneling also remains popular because it is lightweight and easy to install, and requires less maintenance – which is always a win.

Hardboard. Creating a hardboard wall panel involves hot-pressing wood and other plant fibers, making this specific paneling option tougher and more resistant to moisture. It comes in a variety of colors and finishes, allowing for many design possibilities.

PVC. Made of polyvinyl chloride (PVC), this wall paneling option is perfect for bathrooms and kitchens because of its waterproofing ability. PVC panels are also non-porous, meaning no mold or mildew will develop on its surface. They are available in multiple colors, and, if you choose three-dimensional (3D) panels, you can add depth, texture and pattern to any room.
Deciding which wall paneling material can be a little overwhelming. Make it easier on yourself by consulting the local, premier home additions and interior remodeling expert, Cottage Industries. We will be more than happy to help you explore your options and land on the one that best fits your style needs.
Design Tips for Using Wall Paneling Effectively
If you want to make the most of your new wall paneling and upgrade the look and feel of any given room, you will need to use this design element to best effect. Here are a few tips to get you started:
Beadboard wall paneling consists of individual, narrow boards with a "beaded" edge on one side and a beveled edge on the other. You can use this wall paneling type to give your bathroom a warm and country-like feel. It can also be used to make a stark, contemporary room look friendlier.

A cool-toned wood panel can be accented with warm accents and neutral colors to create a homier atmosphere.

Another wall panel type to watch out for is V-groove, which is wider than beadboard and uses planks with a chamfered edge. When fitted together using a tongue-and-groove joint, they create a distinctive V-shape in between the boards. Because of its wider planks, V-groove wall paneling appears more substantial than beadboard. And compared to the latter, which evokes classic farmhouse design, V-groove allows for a neater, more modern look.

You can contrast your wall panels with a luxury material like marble and granite to take the look of your space to another level.
Why You Should Choose Cottage Industries
Installing wall panels in your living space seems like it would be easy – maybe, even straightforward enough that you can get away with doing it yourself. But this may not be such a good idea. The fact is like any major upgrade wall paneling installation will require the expertise of a professional. And, for many homeowners in Philadelphia and the Main Line, the only name to call is Cottage Industries. Here are some of the reasons we remain one of the top home remodeling companies in the area:
Full Credentials
Cottage Industries always has your protection in mind. We are a fully licensed, bonded and insured company, with each member of our professional team also carrying the necessary workers' compensation and liability coverage. These qualifications ensure you will remain secure in case something untoward occurs on your property during the remodel.

Decades of Experience
Established in 1989, Cottage Industries has effectively met (and continues to meet) the historic restorations and kitchen remodeling needs of homeowners in and around Wayne and Philadelphia, PA. During these 30-plus years, we have streamlined our process to give you a smoother and worry-free experience, from start to finish. No costly errors and callbacks – just exceptional workmanship that few companies can match.

Customer-Centric Approach
Our skilled and experienced team is always ready and able to answer any questions and address any concerns you may have about our work. We give every remodeling project we take on the full attention it deserves, and we always treat our clients with the utmost respect. By taking into account your needs and wants, and incorporating them to best effect in your remodel, we can transform your space into something more beautiful, comfortable and functional. Our customer-centric, one-on-one service is the reason we get 5 out of 5 stars on Houzz and maintain an A%20 Rating with the Better Business Bureau.
Schedule Your Consultation Today!
Cottage Industries meets schedules and timelines with laser-sharp management and produces creative architectural designs that will fit your budget. From quality historic restorations to custom interior remodeling, we have got you covered. You know that you will always get a positive and satisfactory experience when you choose us to handle your home upgrade. Call us now at (610) 293-9750, or fill out this contact form to schedule your design consultation. We look forward to hearing from you and helping you convert your vision into reality!