Guest houses are actually a rising trend among many homeowners as they realize that it's a more creative way to expand the living space of a property. Yet, this is also a major investment for your home property, so it helps to be informed about what's to be expected from such a project.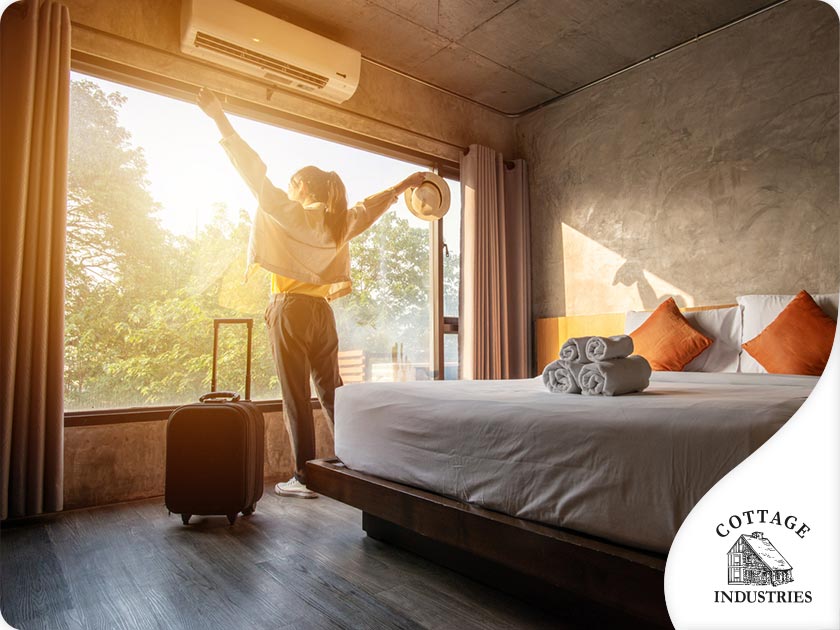 How a Guest House Benefits Your Home
In recent years, more families who want to expand their living space or additional income are having an in-law suite or guest house built on their home property. Having a guest house can be a great solution to your growing family or your guests as it can increase your property value, provide a potential secondary income and offer a personal quiet space to work or relax.
A guest house is also known as an in-law suite because it's a perfect place to host family or friends on visits. It also goes by many regional colloquialisms, such as casitas, granny flats, cottages and tiny houses. When you build a guest house, you're providing additional comfort and privacy for you and your family. It's one of the best types of home additions you can have since you'll also have a quiet space that you can easily retreat to when you want. This makes a guest house or in-law suite a versatile space for your home!
In legal terms, guest houses that are part of the main home are typically used as a multi-generational arrangement. This essentially means it's built as a living quarter subordinate to the main house that has all the basic amenities sans a full kitchen and/or the necessary plumbing and electricity systems to function as an independent unit. This is ideal for elderly parents if you want them to be close by so they can be cared for more easily, especially if they can no longer manage an entire household independently and live in an in-law suite year-round.
If you want a guest house that can be used as additional income, professional home and kitchen remodeling contractors will recommend building accessory dwelling units (ADUs). These are self-contained units with a full kitchen and bathroom. These types of guest houses also meet the necessary legal plumbing and electrical standards to independently house tenants.
Before You Build Your Guest House
Part of planning your guest house is determining how much you'll need to spend for the project. A guest house is a significant investment on your home property as it easily involves thousands of dollars and months of work. The specific amount you'll be paying will depend on how you want your guest house to be built. To give you an idea, you'll spend at least around $80 to 160 per square foot for a full installation. If you're planning to build a 600 to 700 square feet guest house, it can cost you around $45,000 depending on the type of material and foundation you choose.
Other Benefits of Building a Guest House
Even if you're not yet retiring, a guest house can still be one of your best home additions since it can generate additional income for your home. Guest houses often appeal to younger people like students at a nearby university or traveling guests who wish to look for a good place to stay in town through certain booking apps. You can set a separate meter to track utility usage and even invest in eco-friendly features, such as double-paned windows, energy-efficient appliances and light-emitting diode (LED) lighting!
Building Options for Your Guest House
Having a guest house may be great for your home, but keep in mind that not every neighborhood is zoned for guest houses or other types of accessory dwellings. Before you start designing your guest house, make sure that you have all the right building permits and that you're legally allowed to build one in your area. You can start by checking your county zoning ordinances and see if you're required to obtain a permit to build a guest house. You can also work with your hired home addition contractors, and they'll take care of most of the needed paperwork!
When renovating an older guest house or a previously built ADU, make sure to work with a professional if you want to preserve its architecture. But if you decide to build a new one instead, there are two main types of guest houses to consider:
Site-Built Guest Houses 
While these may be more expensive and take longer to build, a site-built guest house is more carefully planned, approved and then constructed right on your property. This means you'll have much more freedom to design a guest house that fits your lifestyle as well as your main home's architecture.
A site-built guest house may be a more attractive option if you're planning to increase your income during retirement. Some homeowners actually move to their guest houses while renting out their main home on their property. When they do this, they usually prefer having a custom guest house built according to their needs and preferences as they age.
Modular Guest Houses 
One way to build your guest house is by getting one that's modular or prefabricated. This type of guest house is pre-built in a factory instead of having it constructed on-site. A modular guest house typically arrives at your property in sections and is assembled by contractors on-site using cranes.
Financing options are also the same as building your guest house on-site, but modular guest houses are often cheaper and faster to construct since everything is pre-built before being shipped and assembled on-site. Weather delays won't become a problem when you decide to build a modular guest house, and you can choose from a wide variety of pre-made designs!
Even if you're planning on selling your home in a few years, building a guest house is still a great idea as it will add more value to your property. Whether you need an expert in guest house construction or historic restorations, Cottage Industries is the name to trust! Contact us at (610) 293-9750 or through our online request form. Take the first step towards realizing your dream guest house!