Bathroom Remodeling in Philadelphia & the Main Line
You're ready to stop dreaming and get moving on a redesigned bathroom that's big on sumptuous comfort and personal style, with materials, fixtures and amenities that perfectly combine form and function. For homeowners who live in Philadelphia and on the Main Line, the biggest challenge of remodeling an older bath is finding a way to adapt the room to their current modern lifestyle while maintaining the integrity of the often 19th century architecture.
At Cottage Industries, we specialize in creating baths that accommodate all lifestyles, including aging-in-place, in-law suites, handicap accessibility, and green building. Whether it's a powder room or a spa-inspired master bath, we pull together all the important design elements to create a space you'll love to show off – or keep all for yourself! Let us help you create the bathroom of your dreams. From concept to completion, we'll work with you to build a relaxing space that will provide a lifetime of enjoyment while also increasing the value of your home. From that invigorating wake-up shower in the morning, to a blissful spa experience at the end of a long day, remodeling the bathroom to better reflect a modern lifestyle is one of the most popular projects we do.
Bathroom remodels more often than not increase your home's value, particularly in older homes, but we believe the top priority for re-doing this room should be your family's well-being and enjoyment. We'll design and build a day spa for your master suite or create a kids' space with fixtures and furnishings that can handle the more rambunctious members of the family. Our seamless step-by-step design/finish selection/construction process will satisfy all your best ideas and needs while staying on budget, and we'll exceed your expectations of service, craftsmanship and cleanliness. We understand the unique challenges homes in the Mainline area can present when it comes to remodeling, and we're confident the distinctive results we deliver will bring years of enjoyment to you and your family.
As with all our remodeling projects, we begin with an in-home consultation that helps us understand your redesigned bathroom desires and goals. From there, we begin a design process that is focused on a balance between "best" solutions and optimum use of budget.
Bathroom Remodeling Services
Cottage Industries is extremely proud of its customized and caring service. Our 25 years of experience and expertise work as one to provide you with a stress-free remodeling experience. From ultra-modern to traditional opulence, our bathroom remodeling services include:
Master baths and suites
Guest baths/powder rooms
Jack and Jill bathrooms
Full bathroom renovations
Custom furnishings/fixtures
Tiling and backsplashes in a range of materials
Custom cabinetry
Recessed lighting
In-floor heating
Bathroom fireplaces!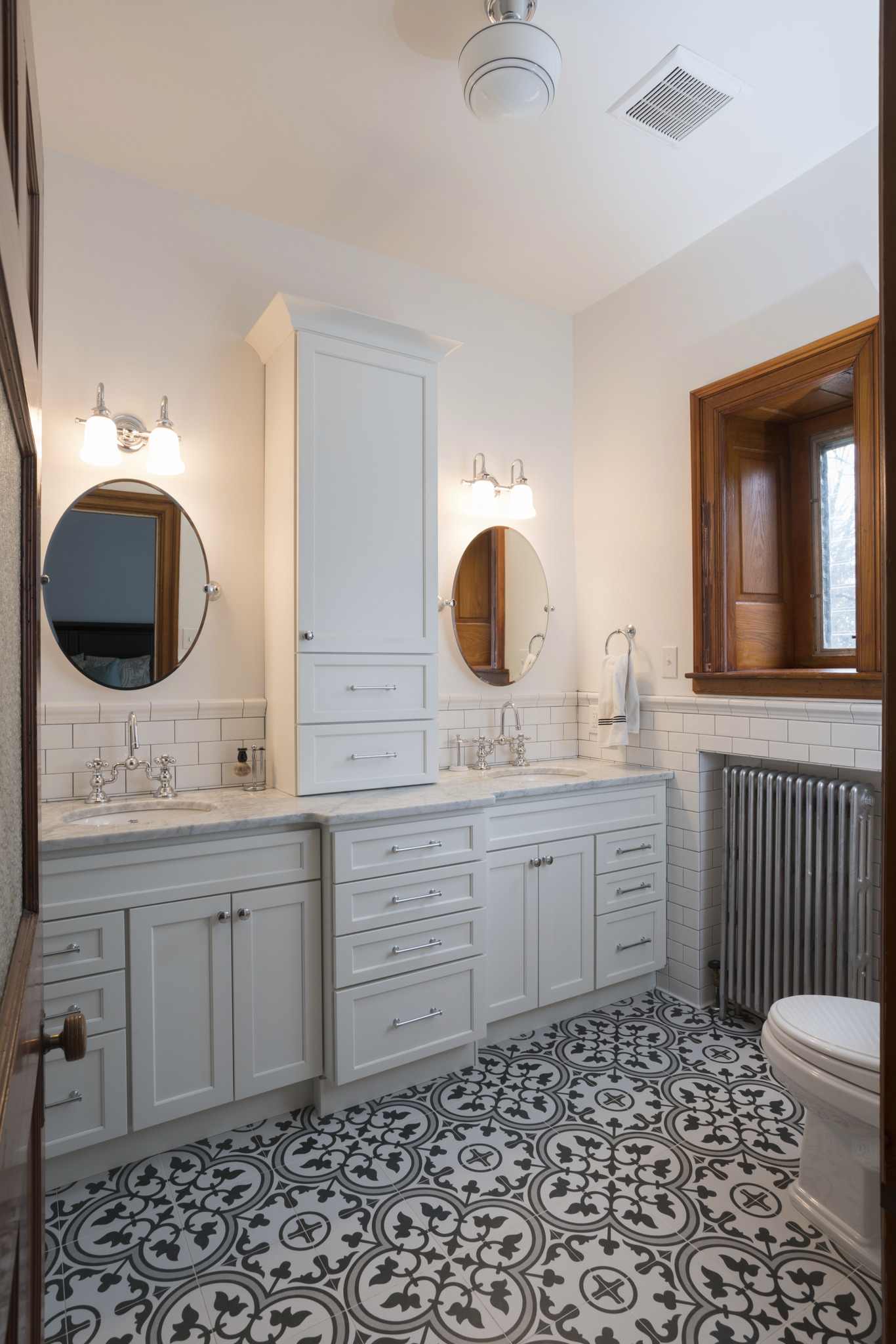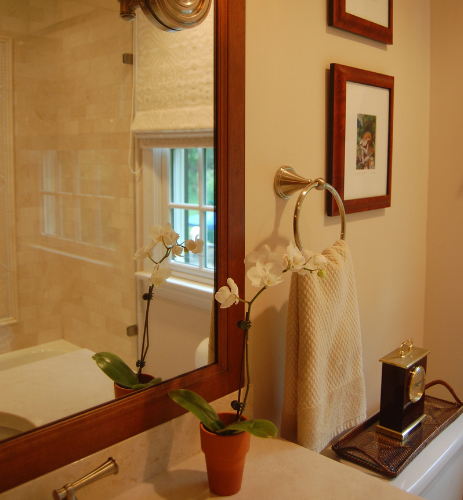 Your Bathroom Remodel Budget
Many of our clients are pleasantly surprised to learn that we can work with them to modernize their older bathrooms within their projected budget. Each and every one of our bathroom remodels is performed by fully-licensed, insured contractors who are familiar with historic architecture. A successful bathroom remodel is one that's based on a carefully crafted budget, and we take all possible factors into consideration, including:
Layout and design (will walls be moved, etc.)
Costs of materials
Appliances, furnishings and fixtures
Changes in scope of work
Modern Updates for Classic Homes
One of the joys of living in Philadelphia and on the Main Line is owning a fabulous piece of classic architecture that can often date back to the 19th century. However, if you live in an older home, you know how challenging it can be to adapt certain rooms to a more modern lifestyle. Many older homes have angled and out-of-square walls, along with other obstacles that must be planned around. Cottage Industries exists to build value-conscious solutions for families like yours who want to adapt their home to their current lifestyle, rather than trying to force modern living into their 19th century home. The 21st century bathroom is full of remarkable innovations that have opened the door for homeowners to create personal spa-like experiences right at home. Today's in-home retreats focus on convenience and health benefits, with a wide array of products that will take your bath from ordinary to extraordinary:
Electronically-activated fixtures
Steam showers with multiple heads
Heated floors
Sensor-controlled fans
Surround sound audio systems
Recessed multi-stage lighting
Skylights
Tankless commodes
LCD monitors built into high-tech mirrors so you can watch TV while soaking
For the ultimate in relaxation and rejuvenation, steam showers, saunas and specialty tubs are the perfect choice. Steam showers are ideal for relaxing tired muscles or energizing your body and mind, and multi-jet shower systems can include hydro-massage combined with sound and vibration therapy. And during the cold Philadelphia winter months, what could be more inviting than stepping out from a rainfall shower onto a warm and soothing tile floor? Consider state-of-the-art luxury design elements like LED lighting for walls and ceilings, vessel sinks, hands-free faucets, towel warmers, mirror defoggers, and sound systems. For those living in older homes, a popular option is knocking down walls to make an older, small bathroom larger and more functional. Opening up the bath in this way also allows for his and hers private spaces.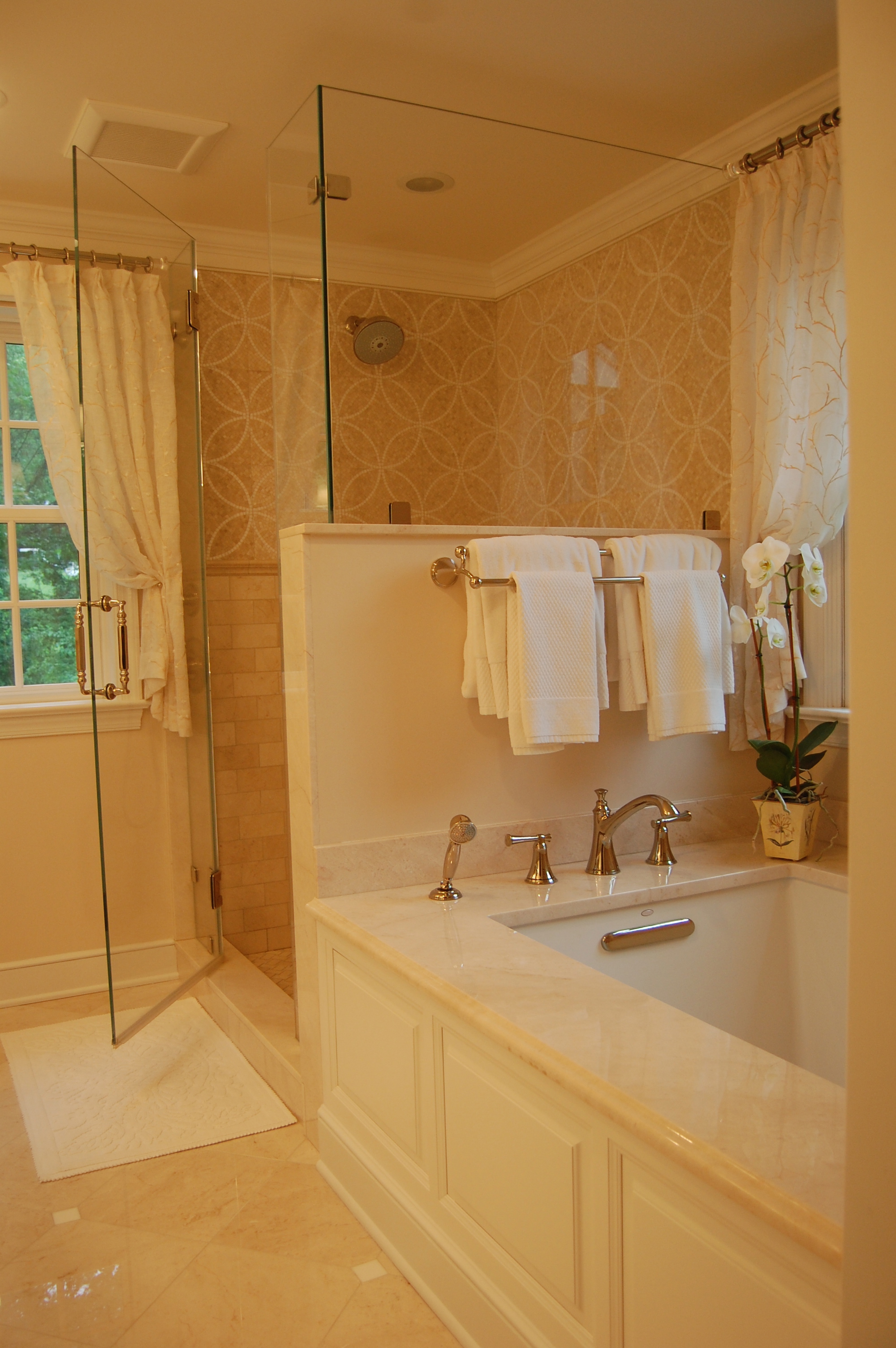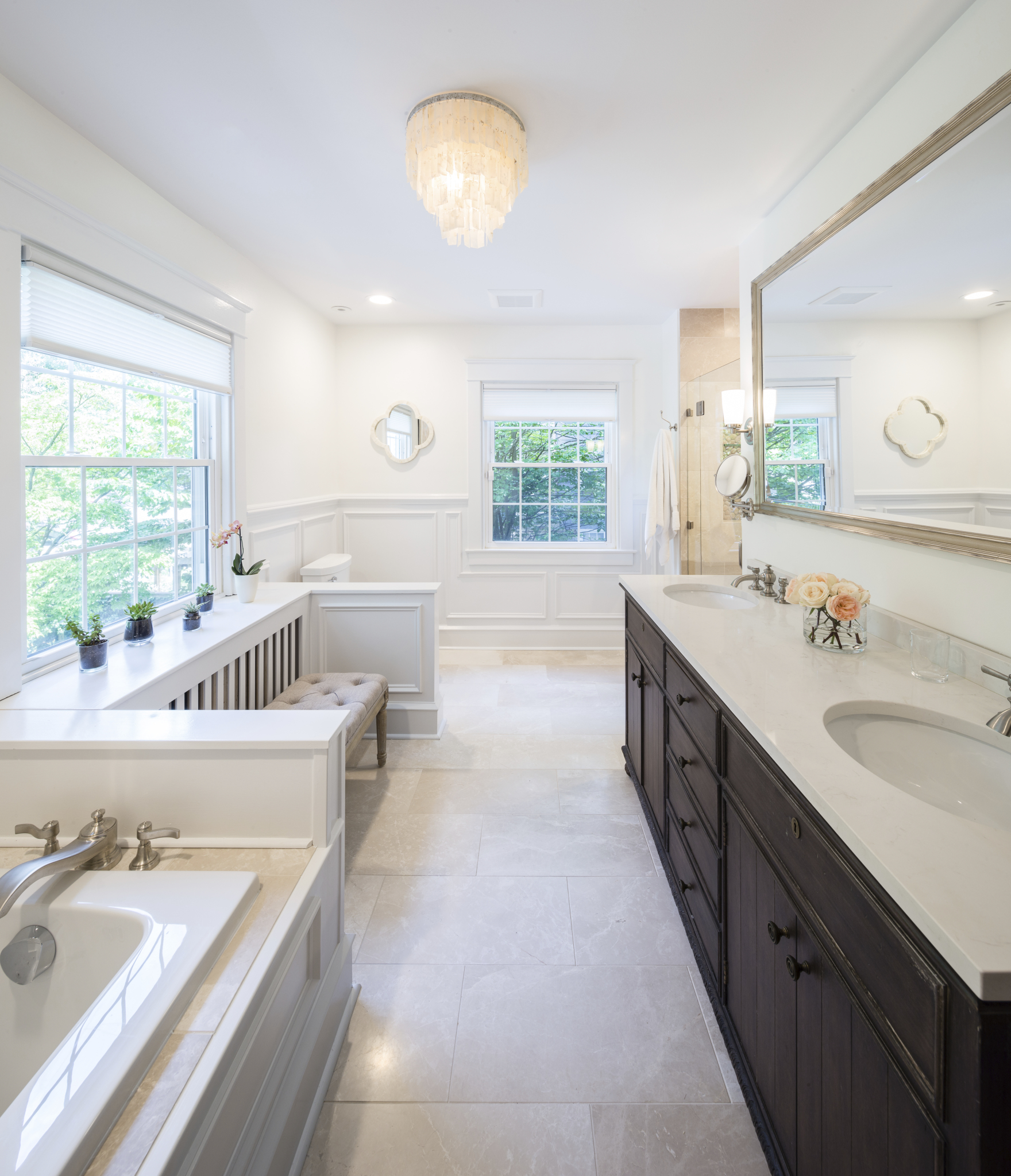 Special Touches
The design elements available to you when updating a bathroom are seemingly endless. We'll walk you through all the different choices and help guide you to those that blend seamlessly with your home's original architectural style. Some elements you may want to consider include:
Heated Tile Flooring: Today's tile floors come in a wide range of materials and designs, many of which can be heated, taking that icy edge off when exiting the shower or tub.
Tile Accents: Creative use of tile for the floor, shower and tub area can greatly enhance your bathroom's beauty. One lovely option is to use ocean-colored glass tile to create a soothing and blissful shower atmosphere. Our designers can show you dozens of ways to bring elegance in your bathroom design through the use of tile.
Vanities: Whether you choose wall mounted, framed, pedestal or cabinet style, we'll help you decide which vanity design is most well-suited to your project. The best vanities blend utility with artistry, hiding away items like hairdryers and towels, but showcasing your home's character through design elements that echo its original architecture.
Our Approach
Overcoming the remodeling challenges an older bathroom presents is something we love working through with our clients. At Cottage Industries, we maintain a strong on-site presence throughout the remodeling process and believe that open and consistent communication between the entire design build team and the homeowner is the best way to guarantee a positive experience for all involved. Take a look at some of our inspiring bathroom remodels by clicking on the photos below and then contact us to schedule a conversation about your particular bathroom remodel ideas and needs. We look forward to meeting you!