Home cooking, for some people, is considered a hobby. Whether they received culinary training or learned from cookbooks and cooking shows, many homeowners are passionate about it for many different reasons. They find joy and satisfaction from cooking at home knowing that their family gets to try and enjoy new dishes. It is a way for them to wind down and relax, like a form of therapy. It allows them to showcase their creativity by experimenting with ingredients. It also connects them to their heritage and brings back good memories of their childhood.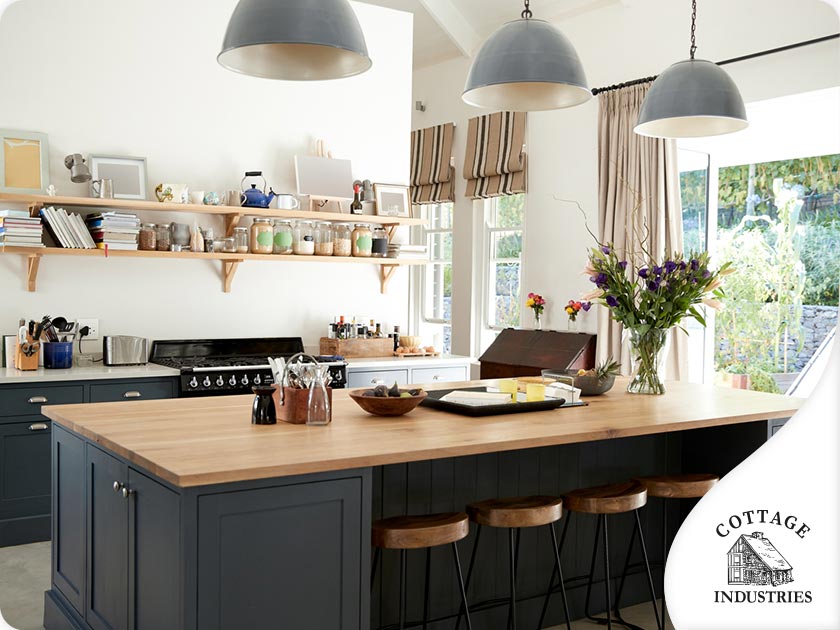 As someone who loves to prepare and cook food as a hobby, you deserve a kitchen that fosters this kind of passion. If you are planning a remodel in the future, you're in luck! Here are few must-have features you'll likely want to add to your kitchen remodel wish list.
Functional Kitchen Layout
A functional layout is crucial to a more streamlined and efficient kitchen space. After all, you don't want to waste time moving between locations as you prepare and cook food. This is where the "work triangle" concept comes into play. It connects primary kitchen features, particularly the stove, sink and refrigerator. Designing them near each other maximizes efficiency by minimizing the steps between tasks.
According to kitchen designers, the ideal distance of each leg of the triangle must be at least four feet long, but no longer than nine feet. It means that the spacing between any two features must be equal in such a way that you can just pivot within the designated space without having to move too far from the middle of the triangle.
Combination Oven
A combination oven, also known as a "combi", can deliver a few key features for serious cooks. It allows you to cook food using steam, hot air via convection or a combination of both. With steam, you can poach fish, steam rice, cook vegetables or reheat leftover food. With convection, you can bake bread and pastries or roast meats.
Having a combi oven in your kitchen is a great way to boost capacity or save on space by replacing multiple appliances that crowd your cabinets or counters. Before you purchase one, make sure to consider the installation needs and costs. A combi oven may require connection to water and drainage pipes. Also, talk to your kitchen remodeling contractor to discuss its potential height before installing it because steam may billow out when you open the door.
Durable and Correctly Measured Countertop
When reconfiguring your kitchen to satisfy your home cooking needs, see to it that you choose a countertop that is not only durable but also measured correctly. Having at least 36 inches of countertop space on both sides of the refrigerator and stove is recommended so you can prepare food and cook food with ease.
As for the type of countertop material, we recommend engineered quartz. It is made from a composite stone that combines crushed quartz with coloring pigments and resins. This creates a hard, smooth surface that is suitable for food preparation. It is comparable to natural stone countertops like granite in terms of scratch and stain resistance.
Range Hood
A range hood should be included in your kitchen remodeling plan, especially if you are a home cook who likes to sear and sizzle. It should help reduce smells and smoke, but make sure to keep several things in mind when making your choice. For one, the kitchen layout will determine the amount of space you have to work with and how best to fit your range hood into place. The ideal distance between it and the cooktop must be at least 24 inches. Depending on the planned layout, the range hood can be mounted on a wall, incorporated into your kitchen cabinets or suspended from the ceiling over island cooktops.
Consider the kitchen size as well; this will dictate how powerful the range hood fan needs to be to remove cooking odors. The most recommended ones can clean the air in the kitchen space no less than eight times an hour. Also, some range hoods can sound like a small aircraft taking off during operation while others produce lower noise levels. Whenever possible, have the prospective product tested before making your choice. Of course, don't forget to coordinate the look of your chosen range hood with the rest of the kitchen design.
Single-Drawer Dishwasher
Being a home cook also means having to deal with used cookware and dishes on the sink. A large single-drawer dishwasher is all you need to make your life easier. However, instead of getting one with more capacity, you might want to get a dishwasher with two drawers or two smaller dishwashers installed next to each other. This way, if you need to clean only a few dishes, you won't have to waste water or energy.
When installing one, consider its would-be location because you will have to connect it to a running water source. Also, make sure you measure your glassware and dishware pieces. The typical height clearance for a dishwasher drawer is usually 16 inches, which can accommodate plates and other wares up to 13 inches.
Kitchen Island
As an avid home cook, you'd want to have more surface area for food preparation and storage for all your kitchen cookware and other essentials. Thus, an island is among the best additions to consider in your kitchen renovation plans. Apart from its functionality, it can become one of the primary focal points of the whole space akin to a piece of furniture inside your living room. Place two chairs or more near the island counter, and you have an instant dining nook.
Thanks to the kitchen island, you can also combine your love for cooking with social interaction. Whether you are having friends or extended family over for a get-together or holiday dinner, everyone can converge in this important part of the home to bond and enjoy each other's company. After all, modern kitchens today are designed to be more versatile and functional than ever before.
Turn to Cottage Industries, Inc. to build a kitchen that will give you everything you need to support your love and passion for home cooking. Our team of remodeling professionals is here to guide you through our proven process.
Count on us for your home additions and whole-house renovations as well. Call us today at (610) 293-9750, or fill out our contact form to schedule a conversation!