Modern and contemporary bathrooms can be different for each homeowner, but each design generally incorporates materials and features that are popular and trending. As you find a lot of contemporary bathroom designs on social media, you'll notice how each looks seemingly unique and eye-catching. But you need to know that most of them are essentially following the same design language!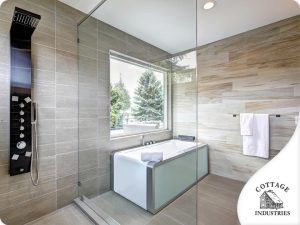 Creating a contemporary bathroom space isn't difficult to achieve for your home as long as you understand the design language. Working with a professional in designer remodeling is recommended since the pros will provide options on how you want your new bathroom space to be designed. Here a few creative tips in designing a contemporary bathroom:
Mix and Match Materials
You'll find many contemporary bathroom designs featuring different combinations of materials. For instance, you can mix and match different types of metals in your bathroom so that you get a nice bit of tension to the design. However, you need to keep in mind that the right combination of materials and metals will come down to choosing complementary undertones. This is to ensure that the metals don't clash and stand out awkwardly.
Use Neutral Colors and Décor
When it comes to contemporary bathroom remodeling projects, many often stick to a neutral color palette that sets the tone throughout the design. White is still one of the most popular colors, and you can accent it with blacks and grays to give it more depth. We also suggest adding wooden elements via cabinets, vanities or even picture frames to add a bit of minimalism to your design!
If you want to make your contemporary bathroom remodel more unique to your preferences, we recommend adding colorful art pieces and other items to the space. Adding more décor to your neutral bathroom space makes them stand out more easily and become centerpieces of your design. Whether they're as simple as a colorful bath mat to potted plants, what you choose will keep the bathroom experience refreshing and relaxing.
When you need a high-end expert in interior remodeling or designer construction, don't hesitate to hire Cottage Industries. Let's talk about your upcoming remodel today. Call us at (610) 293-9750! You can also contact us through our convenient online request form.