During these trying times, most of us are forced to stay at home and even work at home for our own safety. As such, many homeowners have decided to invest in their home even more to make it comfortable and efficient. One of these upgrades is a home office. However, it isn't simply merely about finding space for a work computer. Here are the best spots for setting up your home office.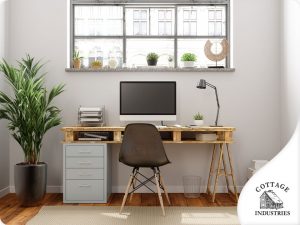 A Separate Room
The best office space will always be a dedicated room in your home. This is ideally an unused space that you have entirely to yourself and allows you to be free from any sort of disruptions whenever you're working. A few examples of these spaces are spare bedrooms or basements, which are commonly converted into home offices with the right planning and preparation.
Garage Space
Designer construction experts state that you can also turn your garage space into a beautiful home office. This is an ideal space if your job creates a lot of noise or isn't limited to the desk. The best feature about a garage home office is that it's highly mobile. This means that the things in the garage can be easily moved in case the space needs to be used for other purposes.
Near the Entry Door
If you think that privacy and silence is your utmost priority when creating a home office, then you should have your home office in a room near your entry door. You wouldn't want your guests intruding you whenever you're in the flow or having a meeting. In fact, you can have a separate entry door for your home office so that they won't have to walk through other portions of your home.
Trust in Cottage Industries for your future home remodeling projects. Our team of remodeling professionals is here to guide you through our proven process. It's our mission to provide you with impeccable customer service and quality craftsmanship, day-in and day-out. Count on us for your home additions and whole-house renovations as well. Call us today at (610) 293-9750, or fill out our contact form to schedule a conversation!