There are many reasons why you might want to upgrade your bathroom. You could do it to improve your bathroom's functionality, aesthetics or even safety. In fact, many designer remodeling companies strongly recommend that you make it as child-friendly as possible. After all, bathrooms are a space that often causes accidents despite their limited floor space. Even with that said, your bathroom should still fit adult standards so that you don't have to redo your bathroom once your children have finally grown. Thankfully, you can get the best of both worlds with the help of trusted professionals.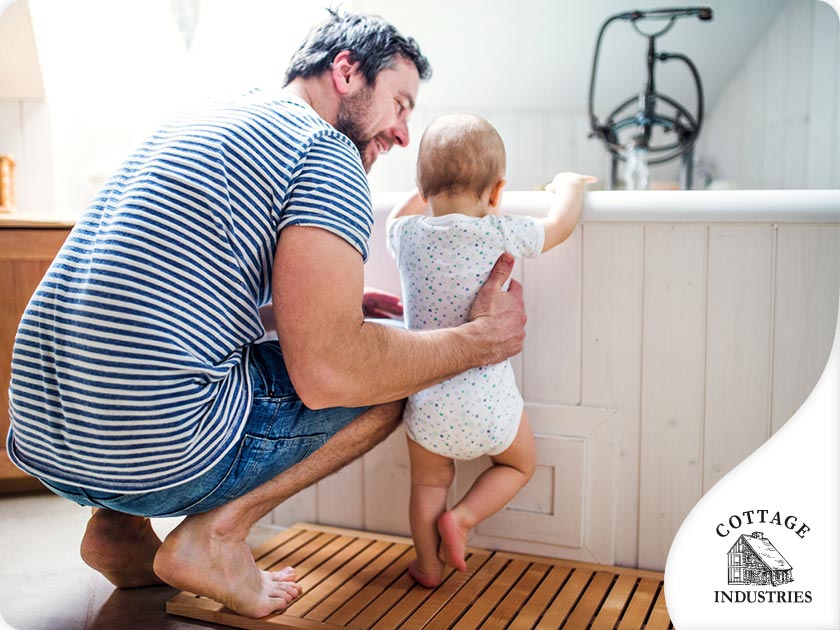 Today, we share a comprehensive guide on how you can create a child-friendly bathroom that can be used efficiently by everyone in the family.
Make Safety Your Top Priority
Regardless of whichever kind of remodeling project you're doing, you should always make safety your top priority. After all, it's a widely known fact that the bathroom can be one of the most dangerous spaces in your home due to the presence of water and moisture that can make floors and other surfaces slippery. This is especially true when it comes to your kids who tend to be very energetic and play around even in these kinds of spaces. This demonstrates how important it is to make your bathroom safe, not only for the elderly, but also for the children in your home.
There are inexpensive ways to do this. You can start off by adding a movable seat for extra stability when you or your children are taking a bath. It's also a great idea to add non-slip mats near areas like the shower, tub or sink, so that you don't slip while getting out or brushing your teeth. This inexpensive addition is extremely helpful, especially if you're using tiles as your bathroom material.
Clear Your Clutter
It's also important to manage the clutter in your bathroom. For instance, you might notice that you're accumulating the same bath products when you're sharing bath products with other members of your family. This is especially evident when you need to bring out toys or other accessories for your children for them to enjoy bath time. As much as possible, you want to reduce or manage this clutter to avoid creating a mess which can be dangerous for your bathroom space.
As such, when you're remodeling your bathroom, you'll need to create a lot of storage space to accommodate these toys or bath products. You can do so by adding a decorative waterproof toy box to store toys and towels. If you don't want external storage to get in the way of your bathroom's design, you can also opt to use built-in vanity cabinets instead of open shelf storage to reduce the clutter accumulating in your bathroom.
Use Low-Maintenance Shower Options
Cleaning your shower space can be a time-consuming and arduous task to do on a regular basis. After all, you'd rather use your remaining time and energy during the weekends with your family or doing important tasks like shopping for groceries and cooking for your loved ones. To reduce the hassle of this process, bathroom remodeling companies strongly suggest investing in low-maintenance shower options, such as KOHLER® LuxStone® showers, which are easy to clean for your next remodeling project.
Install Standard-Height Toilets
If you're doing a remodel, it might not be a bad idea to replace your toilet. When you're out looking for new toilets, make sure that you pick a toilet that both children and adults can use. A great toilet height to pick that can accommodate both kids and adults is 15 inches high. While this doesn't seem like a child-friendly toilet on its own, you can always purchase child booster seats to make it easier for your children to use the toilet. Another temporary solution is to purchase potty training alternatives if swapping out your toilet isn't an option.
Aside from using a toilet with the proper height for your bathroom, bathroom remodeling specialists recommend that you install a high-performance toilet for your bathroom. This protects your toilet and keeps it in good condition even if your children accidentally flush foreign objects down the drain.
Install Easy-Access Tubs
If you aren't using a shower, then you're most likely using a bathtub. With that said, it's important to use an easy-access tub so that both you and your children have an easier time bathing. This can be achieved by installing a gradual step into the basin or by installing a hand-held shower heat that can be placed into the working bar. This simplifies your bathing time while preventing splashes outside your bathtub. It's also a great idea to install faucets with anti-scald valves or adjustable shower bars on your tub. Finally, you can add grab bars near your tub so you can have a safer time exiting your tub. These fixtures add an unprecedented level of safety to your bathroom, keeping your children safe as they grow.
Install Hardware That Is Kid-Proof
To complete your child-friendly bathroom, make sure that you install hardware that children can't normally use. For example, change your D-handle drawer pulls and replace levers with knobs. This is because knobs are harder to grab and pull compared to handles and levers. Also, if your children are washing their hands, using a knob can be difficult, serving as a deterrent from accidental use, ensuring their safety.
Trust in Cottage Industries to build a bathroom that is safe and efficient to use for both you and your children for the years to come. We can also create kitchens that will give you everything you need to support your love and passion for home cooking. Our team of remodeling professionals is here to guide you through our proven process. It's our mission to provide you with impeccable customer service and quality craftsmanship, day-in and day-out. Count on us for your home additions and whole-house renovations as well. Call us today at (610) 293-9750, or fill out our contact form to schedule a consultation.