Kitchen remodeling is not something to be taken lightly. There are many pieces to the puzzle that need to come together in a harmonious fashion. With proper planning and foresight, your kitchen remodel can be a fun experience and the results might be the envy of your friends and neighbors. Without it, possibly the end of your marriage! Ok, maybe that's too dramatic, but here are a few tips that are sure to keep your relationship in good standing.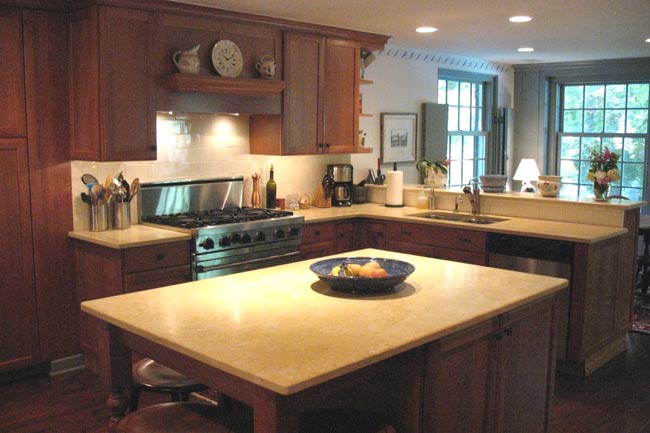 1. Plan Your Kitchen Remodeling Well in Advance
We've noticed that customers can take from one to six months to plan for their kitchen remodel.  Of course, this depends on how busy they are and how involved they are in the process. But the results of the work will be something you live with for years. Don't short-change yourself in the planning process.
Decide early if you want to handle designing everything yourself or if you want to hire a professional that can do it for you. Our advice is the latter. Designing a kitchen involves more than knowing where the cooking triangle should be. It requires knowledge about cabinets, appliances, fixtures, tile, colors, textures, as well as cooking functionality.
Will you be Baking? Grilling? Entertaining? Will you want an open floor plan? Will walls need to be moved? Are there structural considerations? These questions and many more need to be answered during the planning stage.
2. Use Exceptional Professionals
You might hear this and think "that sounds expensive" but would you choose a surgeon based on price or based on qualifications? I thought so. The higher the caliber of professionals planning and executing your kitchen remodel will make the experience a more pleasant one and may save money by giving you a better kitchen with fewer problems.
Designer
A good designer will save you time and aggravation by preventing mistakes in the construction stage. There are many facets to the design that could require more than one talented person. For instance, a kitchen designer may do a wonderful job with cabinet layout and appliance selection, but will they help you choose tile, countertops, paint colors, and window treatments? You might need an interior designer for that.
If you plan on moving walls, structural elements, or adding square footage you might need an architect or an engineer. Be sure to understand the limitations and talents of each person on your design team.
Contractor
Obviously, an experienced contractor is a must-have. Not only should your contractor know how to do quality work, but they should have a track record of performing on time and budget. Are they going to be respectful of your family and  their living spaces? Will they follow through to 100% completion? Get references and call every one of them. Don't settle for a 2 minute conversation or a 3 sentence email, get into it!
Design Build
We are a bit biased here, but we feel design/build is the way to go. Not only can we bring the varied design expertise needed on your job, but you will have the added input of experienced trades people involved in the design as well. It's not as if your kitchen is being designed by a committee.
Far from that, we get input from all players who will express concerns and ideas related to their field. For example, where to move the ductwork so it does not affect the heating and cooling balance in the rest of the house. Another example is a carpenter's input as to whether you need extra effort on fixing the ceiling so you get a perfect line where it meets the cabinet crown molding.
These little details, when planned properly make the difference between a kitchen remodel that's just ok versus one that's spectacular.
3. Get a Written Work Schedule
This seems obvious, but few contractors use written schedules and fewer share them with the customer. A work schedule with payments tied to it is an absolute must. The schedule makes sure everyone is on track and addresses problems before they become unmanageable.
Check it weekly with your contractor to be sure you are on the same page. A little slip here and there can add weeks to a project and before you know it, your eating Thanksgiving dinner at KFC. The payments should be tied to the schedule to keep everyone accountable every step of the way.
4. Order Cabinet and Fixtures Early
Once they have been chosen, be sure you or your contractor orders them early. Cabinets and fixtures can take from four to eight weeks to arrive and longer if you're having custom cabinetry made or purchasing uncommon fixtures. Some contractors like to have everything on-site before starting the work. This is a trade off and might be worth the added time it takes to your new kitchen; discuss this with your contractor.
5. Find Examples You Love
Saving pictures of kitchens that you love will make creating your ideal kitchen design much easier, both for you and your designer. You can find great ideas on Houzz.com or a variety of other web sites. While you're at it, check out our work on our Houzz profile.
6. Do you need a temporary kitchen?
Setting one up can make your life easier. Unless you want to get take out every day, you'll find that a temporary kitchen might well be worth the time and money. A temporary kitchen can be as simple as gathering all of your necessary appliances in one place to make simple meals with non-perishable items. Because you might not have access to your kitchen sink, plan to do the dishes in another sink or a bathtub—or stick to disposables. Find more ideas for temporary kitchens here!
7. Have a Pre-construction Meeting
In our 25 years, we have realized that this is one of the most vital steps to beginning a remodel. And it makes sense when you consider that most customer complaints with construction companies are not about the product, but the construction process—like  communication issues, disrespectful behavior, or making a mess of the customer's home.
The contractor should already have the pre-construction plan ready. Things like the dumpster and porta-pot location, home access procedures, allergies, schedules, payments, and many other topics are very important to make sure both you and the construction team see eye to eye and that you avoid unpleasant surprises down the road. The customer experience has to be a main focus, and a professional and experienced contractor will make sure you are comfortable during the process.
8. Be Kind to Your Workmen
A little kindness can go a long way. Providing donuts and a pot of coffee in the morning, a soda or a cold glass of water on a hot day makes a worker want to work harder and provide better results. Be kind and, the construction team will want to go the extra mile for you and your family, guaranteed.
9. Stay on Track—Write a Punch List
A punch list is a list of things that are either finished, but for whatever reason, need to be fixed or simply got overlooked at the end of a project. When punch lists are not organized, a couple of minor tasks can turn into a nightmare. Walk through the remodel at the end of the project with your contractor and he/she should create and manage the list of all the items that need attention.
These can include things like burned out light bulbs, crooked door handles, paint on a window pane, etc…. Your contractor should walk through the project with you, take notes, and then give you a written punch list and a written schedule for the completion of those tasks.
A kitchen remodel can quickly turn into a nightmare. Avoid a disaster and work with exceptional professionals that can anticipate problems and save you time and aggravation! Contact Us.